Are you interested in 14 Letters from
Dimitri Von Mohrenschildt and 2 postcards for sale ?
I also have 28 Letters from Congressman Leon Panetta to Bruce Adamson circa 1992-93
Adamson contacted his office when he accepted his position as Chief of Staff of Bill
Clinton's administration. They returned all of Adamson's letters.
********************************************************
JACK RUBY LETTER FROM DALLAS COUNTY JAIL
1:00 PM December 8th, 1963
Am looking to locate Ronnie Newsom - Can you help ? Email me at bca@got.net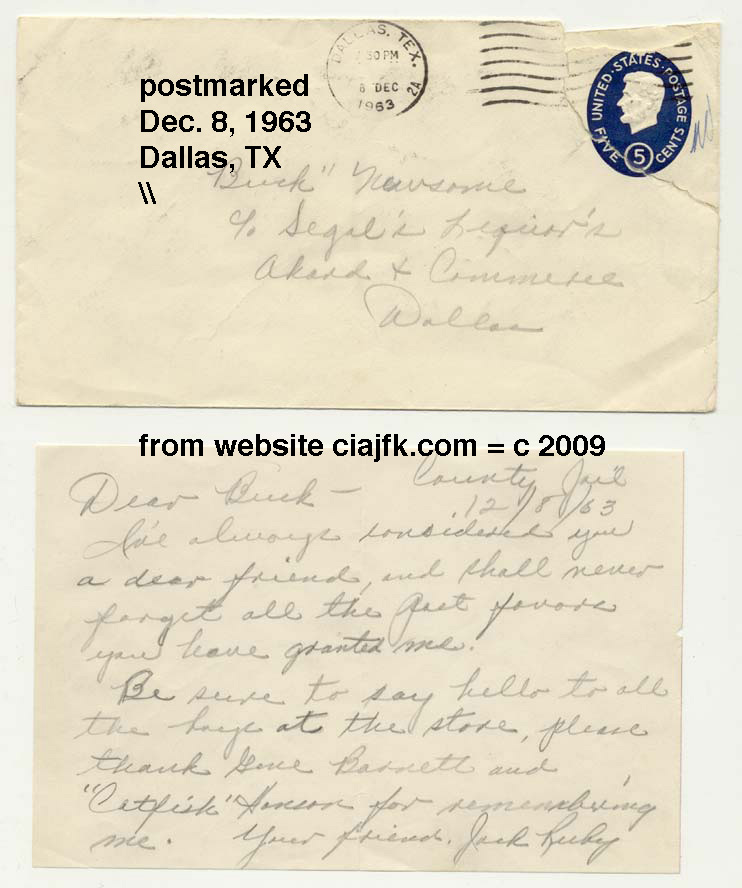 to "Buck" Newsome
Seagrams Liquor's
Akard and Commercial
Dear Buck:
I have always considered you a dear friend, and shall never forget all the past favors you have granted me.
Be sure to say hello to all ...at the store, please thank Gene Bassett and "Catfish " Hanson for remembering me. Your friend Jack Ruby
************************************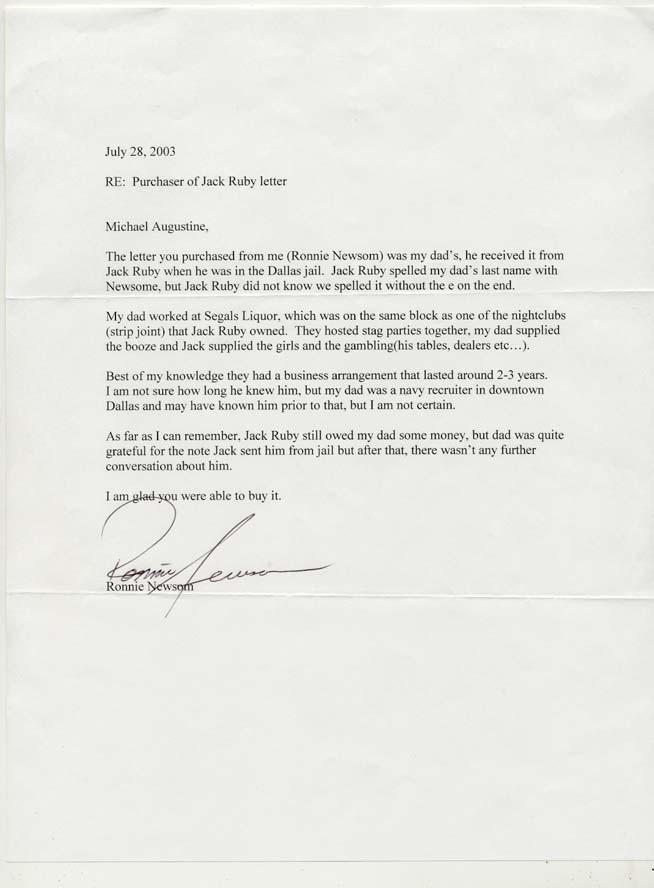 July 28, 2003
RE: Purchaser of Jack Ruby letter
Michael Augustine;
The Letter you purchased from me (Ronnie Newsom) was my dad's, he received it from Jack Ruby when he was in the Dallas jail. Jack Ruby spelled my dad's last name with Newsome, but Jack Ruby did not know we spelled it without the e on the end.
My dad worked at Segals Liquour, which was on the same block as one of the nightclubs (strip joints) Jack owned. They hosted stag parties together, my dad supplied the booze and Jack supplied the girls and the gambling (his tables, dealers, etc.).
Best of my knowledge they had a business arrangment that lasted around 2-3 years. I am not sure how long he knew him, but my dad was a navy recruitere in downtown Dallas and may have known him prior to that, but I am not certain.
Remember, Jack Ruby still owed my dad some money, but dad was quite grateful for the note Jack sent him from jail but after that, there wasn't any further conversation about him. I am glad you were able to buy it. Ronnie Newsom"
************************************
If you have any questions please email me at bca@got.net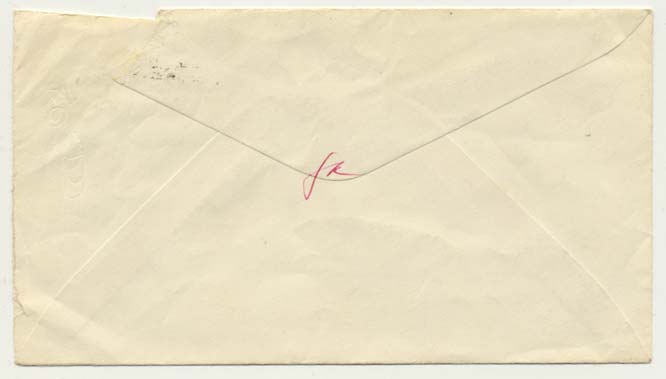 Obituary of Mary Eunice Newsom Webb
LUEDERS- Mary Eunice Newsom Webb, 91, died Friday, Feb. 8, 2002 in an Abilene hospital. Services will be held today at 2:00 p.m. in the Lueders Church of Christ with Bill Luttrell officiating. Burial will follow in the Clearfork Cemetery in Lueders under the direction of Kinney Funeral Home of Stamford.
Mrs. Webb was born August 22, 1910 in Clifton, TX, the daughter of the late Durward and Annie L. Vance Newsom. She married Claude Webb Sept. 19, 1927 in Clifton. He preceded her in death April 3, 1998. Mrs. Webb was a homemaker and lived in Lueders since 1927. She was a member of the Lueders Church of Christ.
She was preceded in death by her parents; her husband; two sisters, Willie Wilkerson and Rosa Wakeman; one brother, Buck Newsom; and two great grandchildren.
Mrs. Webb is survived by one son, Durward Webb of Gorman; one daughter, Bobbie Lovett of Abilene; one sister, Bobbie Oswald of Clifton; six grandchildren; fourteen great grandchildren; and five great-great grandchildren.
Memorials may be made to the Lueders Church of Christ or Hendrick Hospice.