Bruce Campbell Adamson PO Box 3511, Santa Cruz, CA, 95063
Photograph at top is B. Adamson in Pahoa, Hawaii taken by Rikki Mendias.
Memorial to Irene Kennedy Secretary and One of the Founding Members of the Irish-American Society in 1950s
| | |
| --- | --- |
| Irene Kennedy standing in front of St. Monica's Church in 1966. | |
I was raised by Irene Kennedy who was a co-founding member of the Irish-American Society who helped get votes for JFK. Not only did Irene work for Jim and Timothy Hutton, she worked for Ivan Goff (creator of Charlie's Angels and Mission Impossible); Zsa Zsa Gabor and Stanley Kubrick. On June 29, Irene Kennedy passed away and I attended her services at St. Monica's Church in Santa Monica on July 2, 2004 and was a pall bearer. I was in Washington State when I learned of her death. I drove 1,000 miles in 24 hours to attend the services. Irene was truly a special and funny person. I enjoyed her company more so than hanging out with people my own age.When Irene turned 80, President Bill Clinton sent her an autographed "White House" pen. Before dying Irene gave this to me. CLICK HERE FOR BACKGROUND INFORMATION ON IRENE KENNEDY.
People -- January 1, 1985
Digging Up Roots
Santa Monican discovers relatives he never knew he had
-- By Mary Love - Santa Monica Evening Outlook
While browsing through a Santa Monica antique shop recently, Bruce Adamson was struck by a photograph from the 1880s of a solemn-faced toddler seated in what looked like the world's first stroller. But it was not the ancient looking stroller or the stern child that caught Adamson's interest. It was the name Leigh Kellogg -- on the back of the photograph. Adamson knew it to be a name that figured in his family history -- a history he has painstakingly traced for the past three years. A genealogist's work, however, is never done as his encounter with the photograph illustrates. He bought it for $5 ("I wouldn't have paid $5 for it except for the name") and soon after made a trip to the genealogy section of the main branch of the Los Angeles library."I researched the name," he says, "and found that Leigh, born in 1883, is my eighth cousin, three generations removed." Such discoveries delight the growing number of amateur genealogists.
Adamson's interest in the subject was an outgrowth of his interest in history. He was inspired to dig up the roots of his family by a history teacher at Santa Monica College." (Professor Harvey Stromberg).
"It kind of snowballed," he says. "I plunged into it unknowing."
Adamson's mother died when he was five so he knew next to nothing of her heritage. It took him six months just to find out the origin of his mother's middle name Kissam. Once underway, the search uncovered some fascinating information.
His great-great-grandfather, George William Ely, for instance, was Secretary of the New York Stock Exchange, a post he assumed in 1873 and held until the 1919. One grandfather, James Harold Adamson, lost a fortune developing the posh Larchmont Shores in New York.
| | |
| --- | --- |
| Photograph of Adamson is by "The Hogue." A Descendant from American Revolutionary Sea Captain, times have change and so have the boats. | |
Another grandfather, George William Ely, II, fought in World War I and kept a diary of his wartime service. Adamson came by the diary through a cousin in Sacramento. Reading and transcribing the handwritten journal was a moving experience. Just before one of the major battles of the war, the Hindenberg Push, Adamson's grandfather wrote the following passage:
"My next entry will be after the attack. If there are no further entries I am sorry. I have done what I can and I only hope (my) most beloved family will be reconciled." The diary brought to life a man Adamson only dimly remembered. "He went through a lot," says Adamson, "and it makes me so much prouder of myself and of where I came from. It just makes me proud that I come from someone brave enough to go through that." Therein might lie the lure of genealogy...Adamson points out that he never knew of the existence of his grandfather's diary until he queried relatives, asking for anything --documents, pictures or memories. "Tell them you'll exchange pictures, letters, any information on families," Adamson suggests. "Ask if they know of any other relatives."
The old photographs Adamson obtained also provided some pleasant surprises. For instance, his sister as a child is the double of grandfather Ely's sister and a photo of Adamson as a child bears a startling resemblance to his grandfather.
Adamson, whose middle name is Campbell, is still hot on the trail of his ancestors although the information he has so far discovered goes back many generations. His dream is to trace his Scottish lineage back to Robert the Bruce, a 14th Century nobleman. [Update: I have since traced my roots way beyond Robert the Bruce, including two Scottish Catholic Saints, see ciajfk.com/dna]
Adamson believes the money -- at least $600 -- and the time spent in putting together a handsome booklet detailing the history of his family has been well worth the effort. "From now on," he says, "whatever I do, I'm going to try to live up to them (his family) because if it wasn't for them I wouldn't be here today." Note: The character of Robert the Bruce in the movie Braveheart was fictional; they did not have tartans in the 1100s, the real traitor of William Wallace was "Baron Monteith" and not Robert the Bruce. Bruce was the first Scot to fight pitch battles. Nevertheless a great movie by Mel Gibson! My friend Stanley Monteith says "we don't talk about this side of the family."
I would have to say that if Tatum O'Neal gave the best performance and well deserved an Oscar in Paper Moon. At age of 10 Tatum is the youngest person ever to win an Oscar. Tim Hutton being the youngest male at age 20. Yet, had the Academy recognized children actors/actresses back in the 1930s Shirley Temple may have held the record for an Oscar. One can see how Ryan O'Neal must have been very proud of his daughter while working in Paper Moon. What a great film!
Whom am I to Talk? BRUCE ADAMSON'S GREAT MOVIE CAREER -
ONE FILM--as an Extra
In 1983 Adamson and friends Wendy Farnetti, Gary McGowan and George Allen were extra's in a Charles Bronson movie 10 to Midnight. This was Adamson's one and only film appearance. Adamson was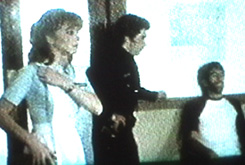 a prisoner at the Venice Jail and Gary and George were cops. Gary is standing over Bruce to make sure he does not escape. Wendy and her brother Frank are childhood friends. There dad Frank Farnetti, Sr. was with General Clark when the Partisians shot Mussolini. Once we were walking through the graveyard by Santa Monica College and Mr. Farnetti said to me after I asked him "if he mind walking through the cemetary?" Naw it isn't the dead ones that scare me it's the live ones." How true! Mr. Farnetti was a boxer in the army and one tough cookie. Frank Sr., passed two years ago at the age of 89. Gary is seen above with Christopher Douglas, both Chris and Gary passed away in 2019.
Photo to right, actress Lisa Eilbacher, Gary McGowan and me (jail-bird)!
CLICK HERE FOR biographical sketch of movie 10 to Midnight.
Adamson has produced two videos and has been studying Final Cut Pro 4.0 and went through extensive studying at Tucson Public Access T.V. Our Pal Hal; An Affair To Remember. Click on link.
Press Release for JFK Assassination video 1,000 Points of Light on JFK, Diana & Sept. 11.
Leon Panetta presented Adamson's book The Life and Times of Captain George W. Ely to former New York Mayor Rudolph Guiliani and to Richard Grasso the New York Stock Exchange Chairman. Click here for letter.Adamson is willing to donate profits from his books of up to thirty percent for almost any charitable cause.
Memorial to one of Los Angeles Police's finest Larry Piesco.
CLICK HERE FOR Memorial to Larry Piesco, L.A.P.D.
Bruce Campbell Adamson was a former Federal U.S. Employee who has won two cases against the Federal Government, without an attorney, using the Whistleblowing Act as the foundation. The release of George de Mohrenschildt's FBI file was one of the cases.
<<<< Go forward a page.