Bruce Campbell Adamson Family History.
Bruce Adamson is related to a bunch of Monkeys see Photograph a Swinging Family Reunion.
CLICK HERE FOR FAMILY TREE GUIDE - For All Families- Print it out - enlarge diamond chart
In 1935 my father Douglas sailed around the world on the ship The Joseph Conrad whose captain was Allan Villiers. Looking for possible children and/or grandchildren that would be cousins from Bali !
Adamson has more than 3000 photographs of family members.
Since 1983 I have taken an interest in researching my families background. I have been written up in many articles and have conducted national syndicated radio shows. Many people have Royal DNA, but they just don't know their lineage. I have been working on my f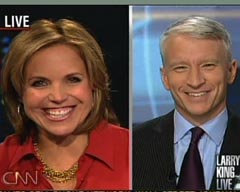 amily lineage since 1982-83.
ADAMSO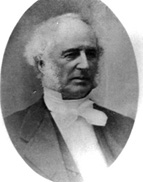 N HAS GLORIA VANDERBILT GENES'
NOT JEANS, BUT GENES! WHICH MEANS THAT
CNN'S ANDERSON COOPER IS ALSO A KISSAM and A COUSIN! Photo to left is Cornelius Vanderbilt -- all of his descendants with Vanderbilt surname are Kissam's.
CLICK HERE FOR Anderson Cooper.
CLICK HERE FOR VANDERBILT FAMILY TREE. Page 1 Cornelius
CLICK HERE FOR VANDERBILT FAMILY TREE. page 2 William Henry Vanderbilt and Maria Louisa Kissam.
CLICK HERE FOR KISSAM FAMILY TREE
Bruce Adamson has Gloria Vanderbilt genes. Not jeans, but genes. His great grandmother Lillian Easton Kissam was the third cousin to Maria Louisa Kissam also known as Mrs. William Henry Vanderbilt. My 3rd great grandfather, Jonas Butler Kissam, a trustee of the Astor Estate was a second cousin to Maria Louisa Vanderbilt aka Mrs. Wm. H. Vanderbilt. Her husband William H. Vanderbilt was the only male progenitor of Commodore Cornelius Vanderbilt. All Vanderbilts today descended from Cornelius are also Kissam's.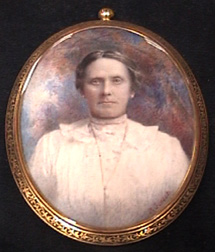 The handpainted photograph is of Eliz Ann Holding who married James Adamson, the great grandparents of Bruce Adamson. This painting is dated between 1880-1900 signed by B. Gordon. Her husband's great grandfather Colonel Ainsworth was the tallest man at the Battle of Waterloo standing at 6'7".
Most of the discoveries that I have learned of are on my mothers' side of the family. I have literally traced them all the way back to hundreds, even thousands, of biblical figures! All ancestors mentioned on this website are direct descendants, unless otherwise stated. Robert the Bruce is not a direct descendant on my mothers side of the family, we both are descended from St. Margaret, Queen of Scotland. Bruce's sister did married Neil Campbell, and there is a possibility that on my fathers side that I am decended to Neil Campbell. Sometimes Hollywood tarnishes names of historic figures such as Robert the Bruce just as they have done with Captain Bly in the movie Muntiny on the Bounty.
The ones under American President's are cousins. For those who are patriotic this person has traced his American roots to many historical shakers.
Since 1983 Adamson has collected family photographs from relatives all over the United States more than 2700 of them. Adamson is shown in the fore going link as a kid, his mother's, mother is descended from Charlemagne, etc,
CLICK HERE FOR EARLY ADAMSON PHOTOS AND RELATIVES.
Would also like to pay tribute to our Spanish side of the family the Conquistadors Mendias family.
Another interesting story was that one of Adamson's great grandmothers was giving birth to a daughter when she died. The young girl was raised in the home of John Carroll, as her brother. In reality it was her cousin and Carroll would become the first Archbishop of the Catholic Church in the United States. Carroll was a cousin to Charles Carroll who was one of the signers of the U.S Constitution, in fact the last living signer. Charles Carroll was the first person to build a passenger and frieght railroad The Baltimore & Ohio railroad at the age of 92. The Carrolls are also descen
ded from George Calvert, First Lord Baltimore.
I would like to assure the reader, that I am an average person. Just because I have documented my lineage, please do not assume that I consider myself above average, I am only human. Let me try to give you an example of what I have gotten out of the stories which you to could shar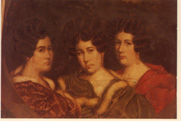 e. What has been really enjoyable are the stories! They are countless. One example is that a great grandfather was killed at the third worst battle of the American Revolution, The Wyoming Valley Massacre in Pennsylvania. Knowing that the battle would take place on the following day, Colonel Whittlesey grabbed his daughter Abigail and placed her on a raft with Abby's nurse sending her down the Susquehanna River. After leading his own men into a heated battle against a force three times his own, his daughter Abigail Whittlesey was on her way and arrived safely in Virginia. After the battle the Mohawk Indians in collaboration with the British Butler's Rangers killed more than 200 women and children. Making it the worst battle of the American Revolution when you count the women and children. Painting above is of Abigail Whittlesey in the center and her two sisters all married brothers with the surname of Camp. George Sidney Camp, the famous author of the 1800s was decended from the Camp's and was the uncle of George W. Ely, Secretary of the New York Stock Exchange 1873-1919..
CLICK HERE FOR Charles White Whittlesey's biography. Photo below is C.W. Whittlesey.
Colo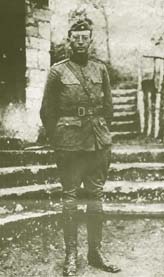 nel Whittlesey's father was the progenitor of Charles White Whittlesey who gained World Wide fame when he lead The Lost Battalion on the German front. Had not Colonel Whittlesey acted as he did, I would not enjoy the precious gift called Life! In December of 2001 A & E ran a two hour special on Charles White Whittlesey's command. Whittlesey received the Congressional Medal of Honor. Captain George W. Ely, II who fought in the same war as Whittlesey was turned down for the Congressional Medal of Honor although two soldiers under his command and instructed by Ely, did receive the Congressional Medal of Honor. They felt that since Ely was a Sargeant it was his duty to lead his men. Ely was gassed and did received the Silver Star medal and Defensive Sector bar,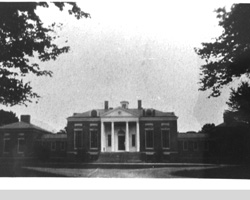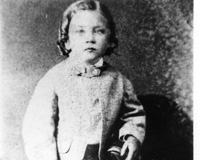 Photos are Judge Samuel Boldrick as boy; Marie Shelton with my mother Nancy Kissam Ely. And a photo of Boldrick's estate in Louisville on Second Street. Judge Samuel Boldrick was a very prominent judge in Louisville, Kentucky. Father of Mary Phillips Boldrick. Mary was named after Marie Shelton's maid of honor at her wedding to Judge Boldrick. Was it a relative? We do not know. Have other photographs of family. Mary's mother was from Nashville another hot spot during the Civil War. This week I learned where my sister obtained her name "Marie" and it was from our great grandmother Marie Shelton. Some of the interesting connections is that Marie Shelton's brother was Lawrence Shelton and her uncles were Dr. thomas McDermott and Edward McDermott a Lt. Gov. of the state of Kentucky during the Civil War. Her father Lucius Shelton fought for the Confederates during the Civil War.
In the 1910 census the family lives at 1914 South Second St. in Louisivlle.
Samuel J. Boldrick is age 40, married 9 years, born KY, Father b.KY, Mother b.KY - J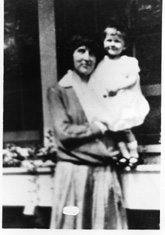 udge - Police Court
Marie E. is age 34 - 2 children: 2 living - b.KY, Father b.Mississippi, Mother b.KY
Mary P. is age 8 - b.KY
Caroline E. is age 4 - b.KY
They have one servant living with them named Hattie Pryon who is a black lady - occup: cook

In the 1920 census the family still lives at 1914 South Second St. in Louisville.
Samuel J. Boldrick is age 46 - occup: lawyer - general
Marie is age 40
Mary Phillips is age 18
Elizabeth is age 14
Catherine is age 6.
Click Here for Biblical Chart 1..
Click Here for Biblical Chart 1..
Click Here for Biblical Chart 3..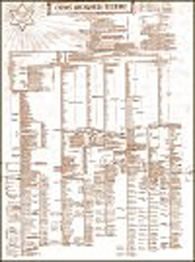 For skeptics who would first like to view the genealogical charts they may purchase the one to Adam in five direct ways, (based upon the bible) for $10.00 includes postage. This Chart does not require Tube. Even though Chart does not show up if you click on link it Will!
Personally, I keep an open mind as to the origin of man. PLEASE CLICK ON CHARTs TO ENLARGE. Chart on left will not show up unless you tap on it for some reason.
The other chart is from my mother's mother Mary Phillips Boldrick, of Louisville, KY. Her father judge Samuel Boldrick was one of the most prominent citizens of Louisville. Other cousins of Louisville are the Spauldings and Lancasters. The documentation is 100 percent guaranteed to Charlemagne, to the Russian and Catholic Saints and is displayed with many examples of heraldry and their family names. It is displayed on a much larger chart 36 x 40 to Charlemagne (in at least eight ways), William the Conqueror, Vladimir the Saint of Russia, Queens and Kings of Italy, Denmark, Germany, France, England, Scotland may be obtained to countless European kingdoms, royal subjects and yes even a Magna Carta baron, etc. different ways to every European kingdom; Carolingtan Kings of Germany; Carolingian Kings of France; Kings of Scotland; Saxon Kings of Germany; Carolingtan Kings of Italy;First Czar and Kings of Russia, Vladimir the Saint; Wm. the Conqueror from Baker Brooke and his wife Ann Calvert (granddaughter of Lord Baltimore), Archbishop John Carroll of Car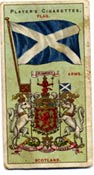 olina; signer of Magna Charta Saher de Quincy; first Jesuits in America; 1st. Lord Baltimore; Sir. Thomas Forster; to the Seal of Waleran, Count of Meulan, the earliest example of heraldic seat in existence (source Museum British Arch. Journal, i., 43-50; Harl.Ch. 45, i, 30).Other important figures include Queen and Saint Margaret of Scotland; her son King & Saint David of Scotland; Robert Comyn; Sir Rober de Emfreville; Roland Lord of Galloway; Sir Thomas Engham; Colonel Henry Darnall, progenitor of Charles Carroll the Signer of the Declaraction of Independance. Thomas de Honeywood; Robert de Beaumont (Blanchmains 3rd Earl of Leicester; King Duncan who was murdered by Macbeth; Hugh Capet, King of France. Authorities include 1). Vital Records from Somerset House, London; 2). English Parish Records: Baptisms, Marriages, Deaths; 3). Documents Public Records Office, Chancery Lane, London; 4). Wills of Perrogative Count of Canterbury; 5). Royal Lineage of Our Noble and Gentle Families, Foster; 6). Histories and Antiquities of Counties; 7). Doyle's Official Baronage of England 1886; 8). G.E.C., Complete Peerage England and Scotland; 9). Douglas, Scots Peerage; 10). The Douglas Book, by William Fraser; 11). Comyn and Bruce, by Cumming Bruce; 12). English, Scot, French, and Horman Histories. 13).Harleian MS. Museum Britannicum; 14). Journal Brit. Arch. Assoc. 15). Collectanea Arch.; 16). Archaeologia Cantians; 17). Record Soc. Publications; 18). Orderious Vitalis--English Translation; 19) Annales Cestrienses; 20). Burke's Royal Families of Engalnd and Scotland; 21). Burke's Peereages; 22). Dugdales Baronages; 23). Crowns and Coronations; 24). Berry'Encylopedia Heraldics; 25). The Conqueror and his Companions, Planche; 26). Norman Seigneurs, J.R. Planche..
Send Check to Bruce Campbell Adamson - Books, P.O. Box 1003, Aptos, CA, 95001