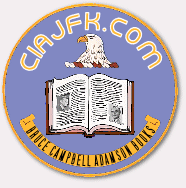 Bruce Campbell Adamson PO Box 1003 Aptos, CA 95001-1003--- EMAIL is bca@got.net
Timeline Chart
The JFK Assassination Timeline Chart, is a 305 page book about the crime, case and "conviction" of the century - without a fair trial? The key figures in the research of the JFK Timeline Chart who are tied to Dimitri and his brother George De Mohrenschildt or the JFK assassination. The Timeline Chart was developed from Oswald's Closest Friend; The George De Mohrenschildt Story.

Some of the major discoveries include:
This Timeline Chart presents facts. No one listed in the Timeline Chart is to be presumed guilty of assassinating John F. Kennedy, solely upon his or her association, direct or indirect, to George De Mohrenschildt, Oswald's closest friend. Any such conclusion is for the reader to make.

The Timeline Chart contains an enormous amount of unpublished material. Its preparation contains results of the author's thorough examination of personal papers of Allen Dulles, Senator John Tower, George Crew McGhee, Gerald Ford, Lyndon Johnson, Dimitri Von Mohrenschildt, Nelson Rockefeller, Hamilton Fish Armstrong, William Henry Chamberlin, Mary Bancroft and de Mohrenschildt's FBI and CIA files, just for starters. Some, but not all, of the information is published in the report of the Warren Commission and House Select Committee on Assassination Investigations. In order to gather this information in the Timeline Chart, I have made three trips to Texas and the East Coast. One trip lasted eight months.

Unless you are an assassination buff, it is doubtful that you have ever heard of De Mohrenschildt. It took me about four months just to learn how to properly pronounce his name. De Mohrenschildt did not become a central figure in the JFK assassination conspiracy until 1976 when he began telling the press that wealthy Texas oilmen, including H.L. Hunt were behind the assassination. If indeed Texas oilmen were in on it, then H.L. Hunt may not have been the only Texas oilman, for, like LBJ, De Mohrenschildt seemed to know all of the wealthiest Texas oilmen.

De Mohrenschildt had ties to three major players in the media world: 1) Nelson Rockefeller; 2) Henry Luce; and, 3) William S. Paley. Both Luce and Paley have kept their personal papers private away from the public. As Vice-President, Rockefeller was in charge of the Rockefeller Commission investigation which in part examined the possibility that a CIA coup was involved in JFK's assassination.

In 1976 George Bush and Rockefeller failed to disclose their association with de Mohrenschildt since World War II. In addition, Rockefeller knew many of Dimitri Von Mohrenschildt's (George's brother) associates. Did our country place the wolves in charge of guarding the chicken coop?

A most important piece of evidence which suggests a conspiracy in the JFK assassination is that on March 29, 1977, George De Mohrenschildt placed a shotgun in his mouth and pulled the trigger. This was powerful circumstantial evidence that his 1976 allegations that Oswald did not kill Kennedy, were true.

But who did? Who was Oswald set up for? Was it for Allen Dulles, Mrs. Hugh D. Auchincloss, Nelson Rockefeller, Philip C. Johnson, William Henry Chamberlin, Dimitri Von Mohrenschildt, Isaac Don Levine, the Hearst family, George C. McGhee, Howard Hughes, Henry Luce, LBJ, H.L. Hunt and family, White Russians, Igor Cassini and/or his father-in-law C.B. Wrightsman? Or a whole "bunch" of Texas oilmen, alone or together?

I first started researching the 26 volumes of the Warren Commission for clues, when I came across George De Mohrenschildt. I thought it was strange that a man who visited Jacqueline Kennedy's mother on a regular basis would also befriend the alleged assassin, Lee Harvey Oswald. In the first several years of my research, I even had a nightmare that Jackie Kennedy had been involved in the assassination. I began to look at this or the possibility that her mother Mrs. Hugh D. Auchincloss was involved. But I concluded, that no one in their right mind would have placed themselves or their daughter in an open convertible with a possibility of being shot, for Jackie sat three feet away from JFK on that fateful November 22, 1963.

| | |
| --- | --- |
| | |
| | Jackie in 1938 |
De Mohrenschildt testified that before Oswald was even born he visited with Jackie and her mother in 1938 on a daily basis at Easthampton, New York. You may, like myself, find this hard to digest.

There are many people who, I feel, look guilty, but there is not enough evidence to nail them down, if in fact they truly are guilty. If they don't fit into the puzzle, one can not go around cutting corners or making up stories about them to force them into the final picture. Yet, the Devil is in the detail. People who were a part of any conspiracy were very wealthy and clever people and they truly believed that it would always remain a secret. The Timeline Chart could help, for it will help others who know more than myself to fill in some of the blanks.

The reader will find it difficult at first to memorize all of the names and personalities within this book.
I have tried to keep an open mind and stay on the course and follow the evidence as it becomes available and set aside my own conclusions. I have had to study 500 to 750 people. This book contains a biographical dictionary which is a very important tool, but by no means a complete biographical sketch of this cast of characters. This Timeline Chart will save the reader the ten years and a $150,000 that I have invested. It contains facts from the first 10 volumes of the de Mohrenschildt, volume 11 is not incorporated yet.

Los Angeles, California, November 22, 1995, Bruce Campbell Adamson


Not everyone is to be presumed guilty upon their association to De Mohrenschildt or their involvement with the JFK assassination.

Click to view the possible conspiracy CIA List

There have been hundreds of books written about Oswald and the JFK assassination, but none has ever focused solely on George De Mohrenschildt.

JFK Assassination Timeline Chart has just been upgraded to 305 pages and sells for $30.00 plus 3.90 for postage and handling within the U.S.A. Bookrate is $2.50 This is the enlarged easier to read edition without an Index please. It weighs 2 and a half pounds.