If you have any questions please email me at bca@got.net or US mail P.O. Box 3511, Santa Cruz, CA, 95063
Will Adamson Chop Judge Addison Niles Arm Off?
In 2008 I purchased a painting of California Supreme Court Justice Addison Niles. When I learned that the first motion picture was produced in Niles-Fremont in 1907, I said to myself wow there is a story here. I moved the painting into my storage locker and when a car rushed by I knocked a piece of wood over and put a 13 inch tear in the painting. I was very upset for about five minutes and then reflected that a friend of the family had lost her daughter in a car accident a week earlier. After being furious for those five minutes the day went very well. Because my lost was minor compared to the lost of one's 19 year old daughter.
I put the painting on Ebay and was ready to take a lost on it, until I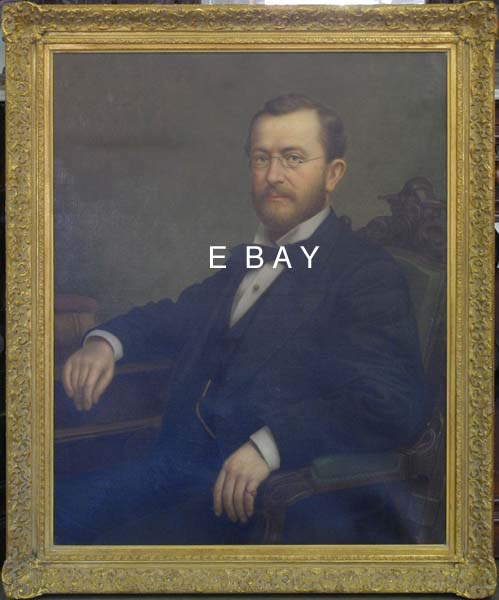 heard of a Antique Fair in Niles, and I had one week to decided what to do. I made the decision to chop off the arm of Justice Niles to eliminate the tear and the previously mended portion of the painting which happened to be on the same side.

The Silent Film Museum agreed to allow me to set up out side their theater. I would then donate 20 percent of the sale to the Silent Film Museum. This town is where Charlie Chaplin had filmed The Tramp almost a century earlier. There was to be hundreds of antique dealers and I had only a few days to chop the frame down and the arm of of Judge Niles so that I could sell him to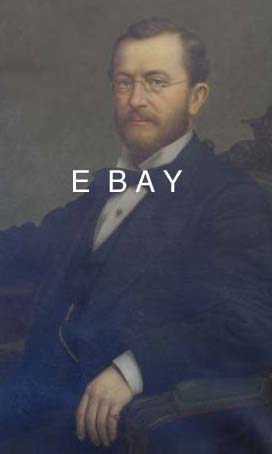 some lucky person at the Niles Antique Fair.
Photograph to the left is what he would have loooked like and photograph of Addision Niles in gold frame was what he looked like before the wood fell and sliced the painting.
The painting was taken to 41st Avenue in Santa Cruz and the owner was ready to cut this very old painting 1870-80s and cut the wood down. When I was contacted by the grand niece of Addison and asked if I might donate it to their historical society in New York. I said I wish I could, but could not afford it. Janet said she would contact a great nephew of Addision, Roswell whom offered my $1,000. I said I would take $2,000 and we made the deal and I did not have to chop the hand off of judge Addison, whose was not guilty of any crime. (Note: Adamson also had judges in his family history), a great grandson of Rufus Easton, who was appointed by President Thomas Jefferson to be judge of the largest territory in North America. The Louisiana Territory. Adamson says "I felt like King Solomon having to threaten to chop the baby in half in order to find out whom the real mothe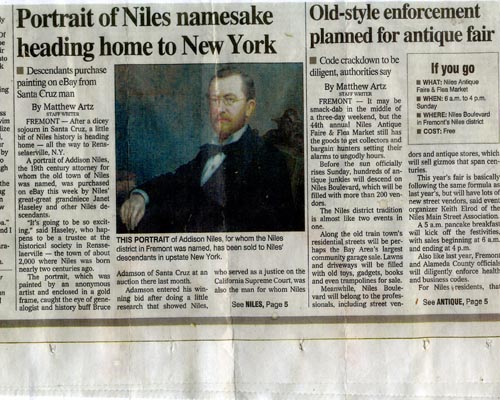 r was. Although a lot less dramatic." I was very happy with the ending and that the family was to restore the painting and did better financial then I had anticipated. Read the rest of the story in the enclosed article in the Fremont Argus.