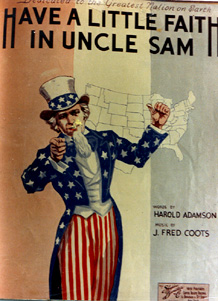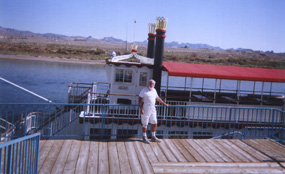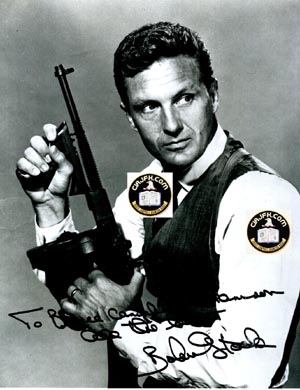 Song ABOVE written by Harold Adamson whose watching over me.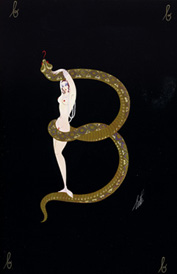 20 Years After September 11, 2001
I Bruce Campbell Adamson, make this Declaration under the penalty of perjury and according to the laws of the State of California on the events of September 11, 2001. On January 7, 2001, I flew to Hawaii for my first time and was able to house sit on Steve Dragon's property 30 miles outside of Hilo. Within in a week after I arrived fighter jets from Pearl Harbor were flying over the property making quite a racket. Keep in mind this was a week before George W. Bush's inauguration in Jan. 20, 2001. Shortly after I arrived, in February 2001 a US nuclear submarine hit a Japanese fishing boat and killed nine of the fisherman and students. On my flight over I saw a buffed guy looking like Mohamed Atta by the pilot's door, I gave him the eye and said to myself "what keeps him from going through the door?" For five years I had been selling my ten volumes on the George de Mohrenschildt Story and have completed many syndicated radio shows.
In reviewing old correspondence I found a letter from future CIA Director Leon Panetta from his residence at 15 Panetta Road, Carmel Valley, CA, 93924. Mr. Panetta acknowledges receiving two books 1). The Life of George W. Ely, and 2). Volume 11 Oswald's Closest Friend; The George De Mohrenschildt Story. Adamson had completed a book on how CIA agent George de Mohrenschildt had a father-in-law "Samuel Walter Washington had been in charge of 250 CIA agents" - 10 years before the JFK Assassination from 1950-1953 in the coup of Guateamala. Panetta's letter is postmarked June 27, 2001. See bottom of Declaration for Leon Panetta's letter. [Panetta is an upright guy who always went out of his way for me, yet he was friends with Bush Sr. long before I knew it.]
In about two weeks Mohamed Al Fayed lost a case against the CIA and the Pentagon under the Freedom of Information Act for he had a file on trying to obtain access to the 1100 pages these organizations had on Princess Diana. This would not have been unusual only because of the fact that Al Fayed had been tied to one El-Amir Atta the same name as the father of Mohamed Atta who led the attacks against the USA on September 11, 2001. - Al Fayed's lawyer Frank Klein Ritz Hotel click here.

It is important to note that Al Fayed's lawyer Mr. Klein had sent Adamson an email on November 7, 1997 thanking Adamson for information on one Brian Anderson who was the only person in a taxi-cab following Princess Diana at the time of her death. Anderson blames the motorcycles. While Adamson was living above a Mexican Restaurant Brian Anderson was often having dined at the restaurant.
On September 11, 2001, I was living in a storage room above a Mexican Restaurant at 9067 Soquel Avenue in Aptos, California. The owner of the restaurant was my landlord and goes by the name of Blanca Moreno and/or Alicia Hamm.
On September 11, 2001 Adamson had been living in Blanca Moreno's storage room for about three months. At 9:15 Adamson turned on the Television and witness on almost every channel what was occuring in New York City. At about 9:20 am Pacific Time (note a three hour difference to the events in New York City) a man with a barb-wire tatooe on his left arm banged on my door. I had blinds and was not about to let him in - the restaurant was closed. No one would know that I was living there - this man said he was ordered to lay new carpet. Three months earlier the carpet had already been - it as brand new. While the man is outside my door, I said: "let me call my landlord." I did and "she said she did not order any carpet."
A year later on Sept. 21, 2002, a black helicopter was hovering above the restaurant. I woke up and saw it and shortly there after I had a 2 to 3 inch bump on my forehead. I wen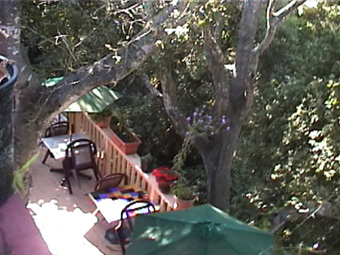 t and checked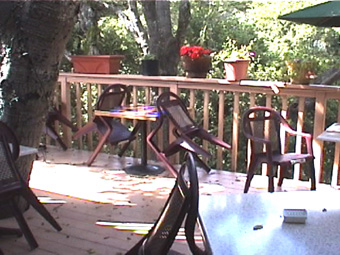 into Dominican Hospital and they could not explain why.Admitted to Dominican Hospital click here for admission..
When I had a follow up visit with Doctor Yule he could not believe it until I showed him an article in 2006 that proved that the US Army was practicing military games on the beach in Aptos California. See Santa Cruz Sentinel article September 13, 2002. Photographs are of deck where I lived. Havana syndrome long before U.S. Government admitted it existed, back in 2001.
Santa Cruz Sentinel Article which I uncovered in 2006 click her Navy Jets put boom on Doon, Exercises off coast caused sonice blasts heard around county. Around the corner of Adamson's residence above the Mexican Restaurant one Brenda Moore, a Rio Del Mar resident complained and confirmed they were War Games in the Aptos area. Letter from Dr. Yule click here..
Like Dr. Yule - my cousin Colonel Andrew Amerson and a former prosecutor for the State of California Attorney General's office and the head prosecutor of the western U.S. Army JAG's office thought I was not playing with a full deck when I told him of the black helicopter. Until 2006, when I found the article within the Santa Cruz Sentinel US Army practicing Army games in Aptos, CA. Amerson edited several of my books and legal documents and was always very helpful....When I showed Colonel Amerson the two Sentinel articles he was taken back.
At the time Adamson had witnessed them and told his land lady Blanca Moreno aka. Alicia Hamm that he had seen a black helicopter above restaurant. I recalled that it was a very quite helicopter - a person could have easily slept through this. Blanca recalled that 3 military men in their uniforms were having lunch right underneath the unit Adamson had live on the following morning. See Letter from Alicia Hamm, click here for content. See Alicia Hamm's aka. Blanca Moreno's letter click here.
Because Adamson had implicated George H. W. Bush in the JFK assassination - the question must be answered "Did President George W. Bush used his position as president to retaliate against Adamson (because Adamson sold books for the past six years on his Bush Sr.'s role in the assassination of President John F. Kennedy?"
Leon Panetta had supported Adamson's research in 1992-93 on the JFK assassination and it was George H. W. Bush who signed into law The JFK Records Review Board Act shortly before President Clinton took over the office. Attorney General Barr was in on this Oct. 1992 cover-up.
For an entire year Adamson had advertised in THE NATION magazine "GEORGE H. W. BUSH and JFK'S ASSASSINATION; 13 volumes Oswald's Closest Friend; The George de Mohrenschildt Story - browse ciajfk.com ..." A month before September 11, 2001 The Nation magazine sent Adamson a copy of the ad. Adamson runs Nation Magazine advertisement against Bush Sr. for more than one year click here..
Since 1996 Adamson had been selling his books on how George H.W. Bush had b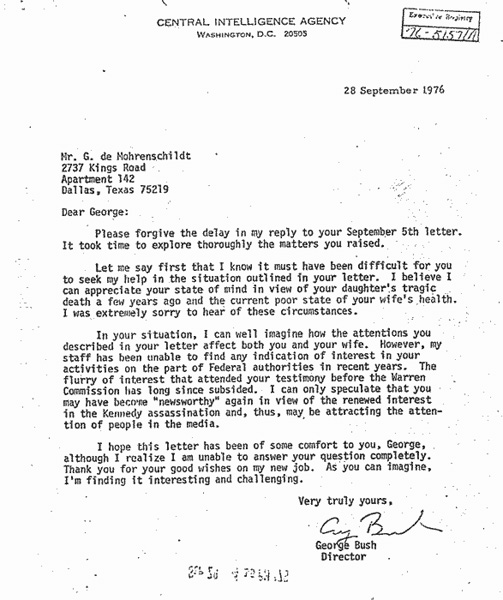 een friends with George de Mohrenschildt and Bush Sr. had been tied to many events around the assassination of President Kennedy. See Bush's letter while CIA Director to [Oswald's CIA pal] George de Mohrenschildt. My cousin from Houston, Mr. and Mrs. Wm. D. Hawkins, were acquainted with Bush Sr. Barb told me that when he went to parties he would see "Poppy" working the party checking out who they were.
Upon reflection I put these facts down for Leon Panetta went on to become CIA Director and acknowledge shortly before the events of September 11, 2001 in June that he was going to read volume 11 of the de Mohrenschildt Story. In this story Oswald's pal (According to the Warren Commission - de Mohrenschildt was Oswald's closest friend) he had a father-in-law who had been in charge of 250 CIA agents from 1950-53 - which was 10 years before JFK's demise. No one ever told the American Public of this fact until publishing vol. 11 of the de Mohrenschildt Story. After all of these events, and having sold over $100,000 in books in a CD Acrobat format, that it was to my best interest to have a life estate in my work and to have my JFK assassination work go to public domain if I came up missing or if I should die from natural causes. After all "You Can't Take it With You," and I did not spend 20 years of my life, nor so much money in vain. Would the CIA want 500 or more people selling my work or only one?
FOR INTERESTING FACTS ON AL-FAYED, BUSH AND DE MOHRENSCHILDT click here.
The following is true and correct to the best of my knowledge and will add documents to substantiate allegations.
Respectfully submitted,
_________________________
Bruce Campbell Adamson - email : bca@got.net
P.S. Photo is a double exposure in Malibu and 1400 block of tenth street Santa Monica.
One thing that people do not want to talk about George W. Bush's wife Laura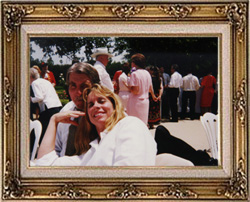 Bush accidentally killed her previous boyfriend in Oct. 1963 short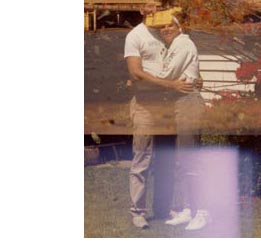 ly before the JFK assassination. It was just an accident, had Laura been drinking it would have been more of a controversy. Someone ran a stop sign. It was just so bizzare for the Bush family had known Lee Harvey Oswald's closest friend since 1942, a CIA agent, George de Mohrenschildt. Photo was to right was taken by Mrs. Harold Adamson of Sarah and myself at wedding in 1997.
It is interesting for shows how we all are connected. Sarah Lee who beat me in basketball at age 16, was with Laura and George Bush shortly after the 2002 black helicopter incident at the White House in 2003.
Sarah Lee Shippen married Herb Jefferies, who entertained for the First Couple at the White House. The public seems to forget that President Bush was responsible for the longest war in US history. Jeb Bush's son, George's nephew worked for Donald Trump in his campaign. And you thought George W. was bad! Makes one wonder why Donald Trump said "Ted Cruz" a GOP canidiate for president, declared "that Cruz's father was involved in JFK's assassination."
I found no evidence of this being true about Cruz's father. Bush Sr. signed into law the 1992 in October of 2002 The JFK Record's Review Board Act with William Barr as Attorney General.
This was not the first time Herb Jefferies was rubbing shoulders with the rich and famous. His third wife was Tempest Storm, a well known dancer. Tempest Storm wrote a letter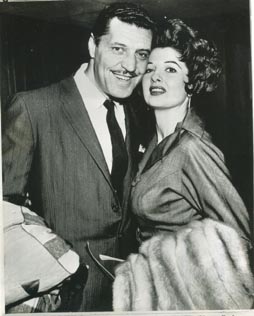 which I sold on Ebay and she described how she had an affair with Senator John F. Kennedy in 1957. She was attractive lady and friends with Betty Page. Tempest Storm had even dated the "King" Elvis Presley. To the right a photo of Herb and Miss Tempest Storm were returning from Tijuana having just obtained a divorce and in a hurry to get married when photo was snapped. I was then only four years old and President Kennedy would be murdered in four years.
In the mid 1990s I interviewed Billy Joe Lord who was Lee Harvey Oswal's roomate when he defected to Russia. His boss was George W. Bush and he had made threats against Lord. In the address below, this came from George de Mohrenschildt's personal address book an address for George H. W. Bush at 1412 Ohio in Midland, Texas. I could have purchased home in the middle of the 1990s for around 75,000 dollars, a former home where two presidents had lived. Before there were the Bush father and son president's there was Adam's son.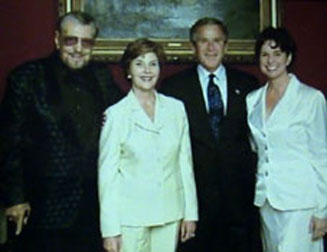 In the 1980s I prepared Sarah's family tree and we met in 2019 in Aptos and visited me with her brother and was friendly....Sarah is a first cousin to Mrs. Benedict Arnold aka Peggy or Margaret Shippen, yet many generations removed. Very interesting family history the Shippen family....Arnold Schwarznegger proposed to Sarah in the early 1980s b
efore he married Marie Schriver, a K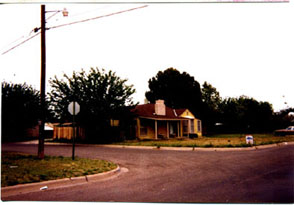 ennedy. I did not know this until Sarah's mother told me in 2004, I began writing books on the JFK assassination in 1992, I did not the the facts that I know today.
I attended one of Sarah's weddings in Marina Del Rey on Mae West's yacht in the 1980s. I have nothing against Sarah Lee, she would be considered a friend.
It is the Bush family that I am more concern about. In 1995 I interviewed Billy Lord, in Midland, Texas who was Oswald's roommate when he defected to Finland. His boss was George W. Bush and Lord was threatened by Bush Jr. to give Edward Jay Epstein an interview or else lose his job at Bush, Jr.'s oil company. As my memory works I don't believe Lord gave the interview and Bush did not fire Billy Joe Lord.
Bush Sr. had already admitted knowing Lee Harvey Oswald's closest friend since 1942 in a letter to Bruce Adamson 1993. Bush Sr. knew de Mohrenschildt, Hinckley family, John shot Ronald Reagan, Billy Joe Lord, [Oswald's roomate when he defected to Finland] Barry Seal assassinated with George H. W. Bush telephone number on him.
Sarah's niece performed at both of George W. Bush's inaugurations with Riki Martin....before the black helicopter incident in 2002. Address of Bush's home was of Bush's home in Midland, Texas and from de Mohrenschildt's personal address that I obtained from the West Palm Beach Sheriff's office in 1992-93.
Sarah and I would have made a great couple in the 1980s...she always had a positive effecti
ve on me in our youth. When we met in 2019 August, I gave her some of my books and videos on Bush, Sr.'s involvement with de Mohrenschildt and the JFK assassination. We met after twenty years. I told her that my cousins were friends of the Bush, Sr. and his wife Barb. She did not mention then about her visit with George and Laura at the White House, but did give me a funny look, when I told her that my cousins were friends with Barb and Geo. Bush Sr.
One does not become President and create wars and find themselves painting a canvas as if nothing ever happened after a million lives have been changed forever. I like George W. Bush's personality today since he has left the White House. A real likeable guy.
See letter from Mohamed Al Fayed to Adamson next to Panetta's. Al Fayed's brother-in-law was George H. W. Bush's business partner Adnan Khashoggi who was in charge of Iran-Contra. In fact Al Fayed handled the buiness transaction for Donald Trump when Trump purchased Khashoggi's yacht through the Sultan of Brunei and Al Fayed represented the transaction. Panetta a real likable person wants you to believe that Bin Laden was behing 9-11 when Al Fayed had a solid connection to the El-Amir Atta family of Eygpt.
In Donald Trump's own words both Adnan Khashoggi and Al Fayed were the uncles to Jamal Khashoggi who was murdered by the Saudi Royal Family according to Trump's own CIA click here for 6 minute video.. Another murder tied to story.