Bruce Campbell Adamson PO Box 1003 Aptos, CA 95001-1003 --- EMAIL is bca@got.net
Who was CIA Agent George de Mohrenschildt? Click to see an incriminating de Mohrenschildt Chart.
WAGGING THE DOG!
CHAIRMAN & CIA AGENT HENRY KISSINGER
APPOINTED TO INVESTIGATE TRAGEDY
CLICK HERE FOR EVIDENCE OF Kissinger representing de Mohrenschildt. Dr. K appointed George H.W. Bush CIA Director in 1975.
CLICK HERE FOR IN CAMERA INVESTIGATION AND TIMELINE ON CONSPIRACY OF SEPTEMBER 11, 2001.
PREMONITION
DID CIA SPEAKER & AUTHOR DAVID HAGBERG's HIGH FLIGHT -
COPYRIGHTED in 1995 - GENERATE IDEA FOR CONSPIRACY?
CLICK HERE FOR COVER of Fictional book in 1995 HIGH FLIGHT, AUTHOR & CIA SPEAKER DAVID HAGBERG WHO WROTE A SIMILAR SCRIPT OF TRAGEDY ON SEPTEMBER 11, 2001.
CLICK HERE FOR DUST COVER. It says on page 1 "HIGH FLIGHT, When fourteen airplanes fall out of the sky in one day, thousands of American lives are lost-and the world's confidence in American's engineering know-how is badly shaken. And as expert saboteurs continue to strike at our vital industries, hundreds of thousands of American jobs and billions of dollars hang in balance..." Click on link to see AUTHOR & CIA SPEAKER DAVID HAGBERG.
Hagberg appears on Art Bell September 26/27, 2001. Bell asked Hagberg that his dust cover on sequel JOSHUA's HAMMER says he speaks for CIA, he says that he did not know individuals were CIA. Yet HAGBERG has had FIVE YEARS to correct this error on dust jacket of HIGH FLIGHT. Guy from Dallas called in and said that Bin Laden's brother worked for George H.W. Bush's oil Company and was killed in airplane crash.
Click here for The Carlyle Group information.
Click here for officers of Barrick Gold. in 1998 we find our former President George H.W. Bush Bush as in business with Adanan Khashoggi.
BACKGROUND ON BARRICK AND BRE-X GOLD SCANDAL OF 1998 GEORGE H.W. BUSH WAS AN OFFICER WHICH HAD UPSETTED GOLD MARKET ON NEW YORK STOCK EXCHANGE. The Walker side of the Bush family controlled Wall Street. Lehman Brother's was run by George Herbert Walker a cousin. It was Lehman Brother's of the Bre-X and Barrick Gold Scandal, introduced Wang Jun to President Bill Clinton's White House in the front door while Automatic machine Guns are coming in the back door in Santa Cruz CA. Henry Kissinger was also tied to scandal as was Conrad Black whose company released the identity of Valerie Plame as a CIA agent under George W. Bush.
The United States may be justified in going after O. Bin Ladin on the basis of the terror he caused during the 1990s. But surely the public should know why all of the hijackers were mostly Saudi Arabic and Egyptian.
HAGBERG in 2000 WROTE SEQUEL JOSHUA'S HAMMER! WHY HAS HE TARGETTED O. BIN LADEN OVER a U.S. TRAGEDY BEFORE IT HAPPENS? CIA CHIEF KIRK MCGARVEY IS CALLED INTO ACTION IN BOTH BOOKS. Rasim Yousef was conspiring in January of 1995 to crash 11 planes into major cities.
IS CIA SPEAKER & AUTHOR DAVID HAGBERG THE PROPHET?
GO TO AMAZON.COM'S URL TO READ REVIEWS FOR JOSHUA'S HAMMER. On November 8, 2001 President Bush suggests in a nationwide press conference that Bin Ladin may try to get a suitcase with a nuclear bomb. This is the same fictional theory that Hagberg used in his book written a year ago in Joshua's Hammer. Primetime promoted this fear to the nation.
Surprise! Mohamed Atta was trained in Venice, Florida and David Hagberg makes his home in Venice, Florida.
On Tuesday September 11, 2001, I Bruce Adamson sent the following to Congressman Sam Farr: "
"Adnan Khashoggi was a frequent visitor to Edwin Pauley's island in Hawaii, Coconut Island. Pauley had a direct line to the White House and CIA agents living on the island. Pauley was chairman of the Democratic Party in the early 1960s. Pauley was listed four times in 1954-55 in George de Mohrenschildt's phonebook. Pauley ran Permargo Oil in 1960 which was a CIA front with George H.W. Bush for the CIA's Bay of Pigs invasion, CIA code name "Operation Zapata."
Mohamed Al Fayed had the power of attorney to the Sultan of Brunei, one of the richest men in the world. All of these men, including George H.W. Bush had contacts to many sources in the Arab world. In 1953 both Bush Sr. and Fayed were working with Singer Sewing Machine company and both were in business with George de Mohrenschildt, Fayed in 1964, Bush in the 1950s. Both Fayed and Bush have ties to the Central Intelligence Agency and to British Intelligence. Bush Sr. had worked with Hussain [sic] and O. Bin Ladin who were trained by the CIA. Sincerely, Bruce Campbell Adamson"
O. Bind Ladin and Adnan Khashoggi have somethings in common. Both were welcomed in the Saudi Royal Family. Both have ties to Georbe H.W. Bush and both had worked with the Central Intelligence Agency before.
[Mohamed Al Fayed vs. Central Intelligence Agency and lost case on July 13, 2001]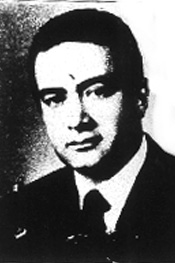 ADAMSON vs. CIA long before 9-11 Terrorist attack World Trade Center - Al Fayed is at Center
Cairo, Egyptian Newspaper refused to take Add from Adamson on seeking information tying Alfayed to El-Amir Atta. Congressman Sam Farr does not act on Adamson's complaint
Click Here for Al Fayed vs. CIA, Pentagon case
Click Here for Al Fayed's factual information in lawsuit. Al Fayed is suing Oswald DeWinter in Los Angeles and as of Feb. 1, 2002 it is an open case.
CLICK HERE FOR Al Fayed entry in 1964 from George de Mohrenschildt's personal address book.
Click Here for Adamson vs. CIA - FOIA case page one.
Click Here for Adamson vs. CIA - FOIA case page two.
Click Here for Adamson vs. CIA - FOIA case page three.
Click Here for Adamson vs. CIA - Al Fayd-s CIA file is datd Jan. 11, 1964 5 weeks after JFK assassinatino FOIA case page four. Look in Lower right corner for date of 1964 - months before Fayed came into contact with CIA agent De Mohrenschildt in Haiti. Keep in mind that Bush Sr. was briefed by FBI Diector Hoover the da after JFK's demise; he had known de M since 1942; Bush was in business with Adnana Khashogghi; dad's banking firm gave de M $300,000 line of credit months before; and in a short while Fayed will be in busines with de Mohrenschildt and dating his daughter Alexandria." Who said Bruce "You better tread lightly."
WAGGING THE DOG - EGYPTIAN GENEALOGICAL RESEARCH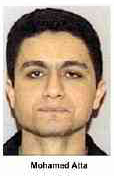 This author's research found that in 1964, Mohamed Al Fayed went to Port-au-Prince as the agent of Emir Atta, of El Sabat, Kuwait. This is an interesting connection for the lead hijacker of September 11, 2001 Mohamed Atta, used the following alias: Mohammed El Amir; Muhammad Atta; Muhammad Al Amir. In fact, Atta's father's name is Mohamed El-Amir Atta.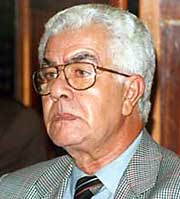 Atta's birthday was listed as Sept. 1, 1968 four years after Al Fayed represented Emir Atta El Sabat. For eight years Atta used the following alias Mohamed El-Amir while in Hamburg, Germany. NOTE that Mohamed Atta used the alias of Muhammad Al-Amir AL Sayad and another alias of Mohamed El Sayed. While on Mohamed Al Fayed's father's death certificate his next of kin were Messrs. Desouky & Sayed, "teachers at the Secondary Stage." The Los Angeles Times confirms the Atta connection in their Jan. 27, 2002 issue. Amir Atta was and is a successful attorney.
MOST OF THE HIJACKERS WERE EGYPTIAN OR SAUDI ARABIAN -- NOT AFGHANISTAN!
PHOTO OF MOHAMED El-AMIR ATTA
Another point of interest is that on Mohamed Al Fayed's birth certificate he lists his mother as Hanem Kotb H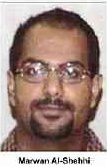 assan (his father was Aly Aly Fayed) both were Moslem. Fayed's father was listed as a tea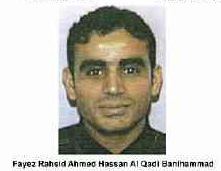 cher his mother a "Nil". One of the hijackers on United Airlines #175 Boeing 767 which crashed into the South Tower of the World Trade Center there was a cousin to Mohamed Atta, whose name was Marwan Al-Shehhi. Al Shehhi's fellow hijacker was Fayez Rashid Ahmed Hassan Al Qadi Banihammad. Fayez is phonetic for Fayed and Hassan is the maiden name of Mohamed Al Fayed's mother. Hassan is much more common than Atta as a surname in Eypgt.
An interesting set of facts are as follows: Mohamed Al Fayed was suing the CIA/Pentagon for having 1100 documents pertaining to the death of his son and Princess Diana. Mohamed Al Fayed's brother-in-law was Adnan Khashoggi, once the richest man in the world who worked with George H.W. Bush during the Iran-Contra scandal.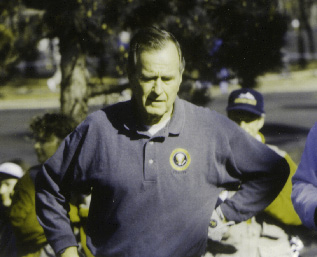 BRUCE gets brother of CIA agent to shoot photo of Ex-President George H.W. Bush at Pebble Beach Golf Term. 1994.
THE FOLLOWING INFORMATION ARE INTERESTING FACTS!
DO THEY MERIT A CONSPIRACY?
THE SULTAN OF BRUNEI - MOHAMED AL FAYED, BUT MOST OF ALL ADNAN KHASHOGGI HAVE UNLIMITED RESOURCES IN THE ARAB WORLD - MOHAMED AL FAYED'S LAWYER FRANK KLEIN HAS SUPPORTED ADAMSON'S RESEARCH PERTAINING TO THE PRINCESS DIANA AND DODI AL FAYED CRASH.
Click here for notes from Bush sr.'s buienss parner
Adnan Khashoggi's biography THE RICHEST MAN IN THE WORLD by R. Kessler.
During the 1970s Adnan Khashoggi was the conduit for about 80 percent of all foreign defense systems in Saudi Arabia. In 1973 a Pentagon official praised Khashoggi's work and payments to him for his assistance in the Middle East. From 1999 to present Khashoggi's brother-in-law Al Fayed has been suing the CIA/PENTAGON for the 1100 hundred pages they have on Princess Diana. Did the PENTAGON have something to do with Princess Diana and Dodi Fayed's murder/accident? Over Land Mines! One thing is certain is that Dodi Al Fayed was the nephew to Adnan Khashoggi! According to Khashoggi's biography he worked with FIAT owned by Giovanni Agnelli. It was a FIAT-Uno which left it's mark on Princess Di and Dodi's Mercedes. (Current Biography 1986).
During the George H.W. Bush administration Adnan Khashoggi was the conduit for arms deals, which ended up in Iran-Contra. Khashoggi was George Bush's main man for the Middle East. Mohamed Al Fayed and Bush knew de Mohrenschildt, yet Khashoggi ang George H.W. Bush were in business with de Mohrenschildt's friend CIA agent Edwin Pauley who was also Chairman of the California Democratic Party.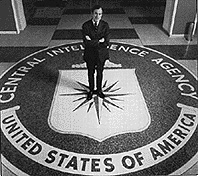 During the 1990s Adnan Khashoggi brought in George H.W. Bush to the board of directors at Barrick's Gold, Ltd. In Canada. False rumors were generated about gold mines in Indonesia.
John McCain what happened to reform? The Gold FRAUD Case was a way to upset GOLD on the New York Stock Exchange. George H.W. Bush, Khashoggi, Howard Hughes, LBJ, Edwin Pauley, Richard Nixon all had ties to one another and to George de Mohrenschildt. Read vol. IX of de Mohrenschildt Story for Al Fayed's family affair with de Mohrenschildt. For Excellent article on Bush's role for false rumor in salted Gold Mines see New York Times, page D-1, Feb. 18, 1997. In one month, and a day the man who made discoverey of Gold mines geologist Michael T. de Guzman is thrown from helicopter to his death when he was on top of the world. See March 31, D-1, D-10 N.Y. Times. In a week, symbolic George H.W. Bush made a parachute jump and is photographed N.Y. Times March 26, 1977 at age of 72. No wonder the Saudi's don't want to help American Intelligence in the September 11th crash, for Fayed's brother-in-law, Adnan Khasshoggi is the representative of the Saudi Royal Family and business partners with George H.W. Bush at Barrick Gold. The Chairman of Barrick Gold is Peter Munk a personal adviser to the British Royal Family.
Teresa LePore was Khashoggi's assistant in the 1980s and she was in charge of designing the voting ballots in West Palm Beach, Florida. Again Khashoggi was a large supporter to George W. Bush's campaign and in business with Bush's father G.H.W. Bush.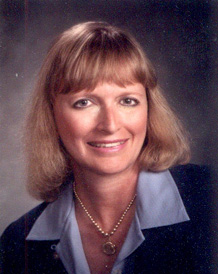 THE KHASHOGGI Book The Indestructible Pilot
In January of 2001 - Adnan Khashoggi sold his 2 floor condo in the Olmpic Towers - N.Y. City
"Taking the Fifth-At last, Adnan! Has Adnan Khashoggi finally sold his pool-equipped duplex in the Olympic Tower? He first put the 18,000-square-foot condo, which he bought in 1976, on the market for $32 million in 1993. The price dropped steadily, and for the past three years he rented it out. Finally, last February, he found a buyer willing to spend just under $12 million for it, but the Olympic's board members weren't happy with the guy (who was rumored to be a front for a troubled foreign government) and attempted to buy it themselves. The spurned buyer put a lien against the property, which was resolved in court in December with Khashoggi and his Corcoran broker freed up to accept other offers (the asking price was $14 million). Now that they're in the clear, there's a buyer willing to take the plunge. (Charges are $15,000 a month.) From the January 29, 2001 issue of New York Magazine.
Mohamed Al Fayed and Mohamed Atta ringlinger of the hijackers were both from the Cairo and Alexandra areas in Egypt.This does not mean they knew one another, but we must not ignore that Mohamed Al Fayed represented a Mohamed El-Amir which is the same name as Mohamed Atta's father. Most of the hijackers were from Saudi Arabia and Egypt, The Public should demand the evidence the U.S. government says it has that O. Bin Ladin was behind conspiracy. THE PUBLIC HAS A RIGHT TO KNOW. For entire list of highjackers names and passengers Click here. Do you know of any Central Intelligence Agents on board?
HOW MANY AFGANISTIAN HIJACKERS WERE THERE IN COMPARISON TO SAUDI ARABIAN AND EGYPTIAN?
O. Bin Ladin's brothers were in business with Bush family!
CLICK HERE FOR HALIBURTON AND BUSH CONSPIRACIES. note that Jeanne Le Gon-De Mohrenschildt lived in the home of Bernard Gold when she worked in 1953 with Abraham Zapruder and was his friend. The home was purchased before JFK's assassination by the HALIBURTON FAMILY.
On July 18, 2001 Congressman Sam Farr, presented four of Adamson's books to the Chairman Sensenbrenner of the Judicary Committee of Congress. Some of which dealt with the Bush families ties to Billy Joe Lord, Barry Seal and Lee Harvey Oswald's Closest Friend; CIA agent George de Mohrenschildt! CLICK HERE FOR SAM FARR's LETTER of July 18th.

On May 19th I sent a letter to Cokie Roberts and Leon Panetta, for Cokie said that the media was very open in our country. Well I had sent the very same letter to her twice asking what she thought about Lyndon Baines Johnson as Vice President meeting with Lee Harvey Oswald's closest friend seven months prior to the assassination of President Kennedy. Cokie Roberts never responded. I also included the letter from G.H.W. Bush admitting a long friendship with George de Mohrenschildt, Bush, Sr.'s FBI memo calling the FBI office in Houston, lawsuit Governor John Connolly prior to the assassination; George Bush of the CIA being briefed by J. Edgar Hoover on Kennedy's assassination document dated Nov. 23, 1963. Cokie Roberts has the nerve to say that our media is open and honest. I will post her letter if she does reply.CLICK HERE FOR my letter to Cokie and Panetta.

CLICK HERE FOR Leon Panetta's letter forwarding my concerns to Cokie Robert's whose father worked on The Warren Report. In 2011 CIA's Panetta Institute will have Cokie Robert's as guest speaer in Carmel CA.

Since 1998 Adamson has had a Freedom of Information Act out on why the CIA had a file on Mohamed Al Fayed since 1964. They have stonewalled his F.O.I.A. One Mr. Gonzalez has gone through the motions on the CIA's file on de Mohrenschildt's father-in-law, Samuel Walter Washington, who was between 1950-53 in charge of more than 250 CIA agents. Could de Mohrenschildt and George H.W.Bush have been two of those? This was 10 years before the JFK assassination. Why didn't the government Tell Us about Samuel Walter Washington who is descended to the brothers of George Washington on both his mother and father side of the family. What is this? The father-in-law to Oswald's closest friend is married into the George Washington Family! Yes indeed!

Since 1996 I have been a guest on many syndicated radio shows speaking on de Mohrenschildt & the JFK assassination.

Recent discovery is that de Mohrenschildt's friend Cecil de Mille was the contact for the Central Intelligence Agency in making Hollywood movies. Both were White Russian.
WHO WAS CIA AGENT GEORGE DE MOHRENSCHILDT and was Oswald's friend? In lawsuit Adamson vs. CIA Director, the CIA admitted it no longer had the letters between CIA Director George H.W. Bush and George de Mohrenschildt dated in September of 1976. They were purged just as more than 200 other Top Secret Documents under Bush's Directorship. CLICK HERE!
CLICK ON GLIPPER LINK FOR HINKLEY BACKGROUND -- Who was John Hinckley, Jr.?
Click here for Adamson's Speech Bush Sr. and Al Fayed's Ties to JFK Assassination; 9/11 and Diana's Demise delivered September 2007.
Click
Here for THREE PART VIDEO OF Sadat's assassination HALF WAY DOWN PAGE - Was Murbarak involved ?
FIVE YEARS AGO BRUCE ADAMSON CONTACTED THE LARGEST NEWSPAPER IN CIARO TO PUBLISH AN AD "LOOKING FOR INFORMATION ON MOHAMED AL-FAYED'S FRIENDSHIP TO EL-AMIR ATTA -- THEY REFUSED AD.
"we heard from Mohammed Atta's father regarding his son's 911 terrorist extremism"The father of Mohammed Atta, the alleged ringleader of the September 11 attacks, said in an interview published recently that his son was still alive. "He is hiding in a secret place so as not to be murdered by the US secret services," Mohammed el-Amir Atta, 66, told the German newspaper Bild am Sonntag. He also vehemently denied that his son ­ believed to have flown the first plane into the World Trade Centre ­ had taken part in the atrocities, blaming them instead on "American Christians"."
Al- Fayed is selling off his car collection and made 2.2 billion off the sale of Harrod's in London.. More money than the US government gave to Egypt. See Adamson vs. CIA, FOIA act request on Al Fayed being in charge of Egyptian intelligence since 1960s. Fayed could never explain how he obtained his wealth when he was selling Singer Sewing Machines in 1953 door-to-door. Book was written about it Tiny Rowland's A Hero from Zero.
Family tree of Al-Fayed prepared in 1966 two years after he was dating the daughter and in business of a CIA agent George de Mohrenschildt. Click on link.
ADAMSON PRODUCED DOCUMENTARY IN 2003 BEFORE MICHAEL MOORE'S 9-11
IT HAD NOTHING TO DO WITH OSBAMA BIN LADEN -
has been shown in public access forums
in New York City - Brooklyn - and around USA
Not only was the Bush family friends with George de Mohrenschildt, (friend of the alleged assassin of President Kennedy), but also the Hinckley Family. George W admits going to parties with John Hinckley in the book "The Unauthorized Biography of George H.W. Bush." Under Ronald Reagan, Secretary of Defense, Rumsfield dealt directly with Saddam Hussein. Should this administration really be so proud when his father also dealt with Hussein and supplied the chemical weapons which help to slaughter the Iranians? Only true patriots would stop boasting.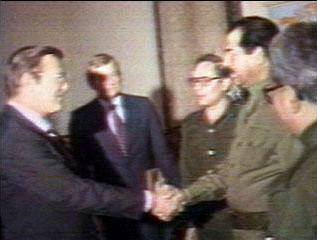 "Weapons of mass destruction.
Watch 3 Part video on Sadat's demise...who said he wanted this on his tombstone "I Lived For Peace and Died for Principles." ... AWAC airplanes were sold to Murbarak after the assasssination. The Military-Industrial Complex "beware" President Eisenhower said 50 years ago. Bush Sr. was right there as Vice President with Mubarak, earlier that year March 3, 1981, the son of Vice President Bush's friend, John Hinckley, Jr. shot President Ronald Reagan. Video's at
In 2003 ADAMSON wins Freedom of Information Act Complaint against CIA which states in 1964 when Mohamed Al Fayed was like family to de Mohrenschildt, Al Fayed was a Senior Officer of EGYPTIAN Intelligence, representing El-Amir Atta and conducting business with CIA agent de Mohrenschildt.
READ HOW G.H.W. BUSH HAS TIES TO MOHAMED AL FAYED AND ADNAN KHASHOGGI who are tied to Mohamed Atta and George de Mohrenschildt!
Hollywood is controlled by the CIA and many actors/actresses don't even know it! They are motivated by money and a contract.
Click here for latest on Lady Bird and Jack Valenti's suit against The History Channel. Adamson has not discrimianted by picking sides on political parties. Adamson's called Dan Davids and did not get a call back. I am sure he is a busy man, you too can write to the members of this board if you believe that they should consider the LBJ/de Mohrenschildt letters that I first published in 1996.