Bruce Campbell Adamson PO Box 3511, Santa Cruz, CA 95063-3511--- EMAIL is bca@got.net
Looking for contract with publisher to take over publishing 15 volumes of the de Mohrenschildt Story and The JFK Assassination Timeline Chart. Volume XIII of The de Mohrenschildt Story is winding down. Comin' in on a Wing and a Prayer with Howard Hughe and the Jet Set. Learn how Howard Hughes was tied to George de Mohrenschildt, why he was given a copy of the JFK Assassination and watched it 1000 times. For those who won't be led around with blinders on.
Bush Jr. seems much likeable since he took up art. I wish he was this easy going in 2000 he would have made a great President. His wife Laura Bush accidentally killed her former boyfriend three weeks before the JFK assassination. Had she been drinking and driving it would have been more of a hardship on her life. Just a terrible tragedy in history.
George de Mohrenschildt had ties to Lehman Brothers as did Prescott Bush who poured money into the Lehman Company in 1932. George H.W. Bush's cousin George Herbert Walker, IV ran Lehman Brothers in 2008.
Click to read more on Lehman Brothers and George Herbert Walker the cousin of both Presidents drop in and visit URL here.
Walker's father, George Herbert Walker III, was U. S. ambassador to Hungary. Walker's great-grandfather, George Herbert Walker I, was the founder of G. H. Walker & Co.Walker was raised in St. Louis, Missouri and has a younger sister, Carter.
George Herbert Walker may refer to:
* George Herbert Walker (1875-1953), American banker and businessman
* George Herbert Walker, Jr. (1905-1977), American businessman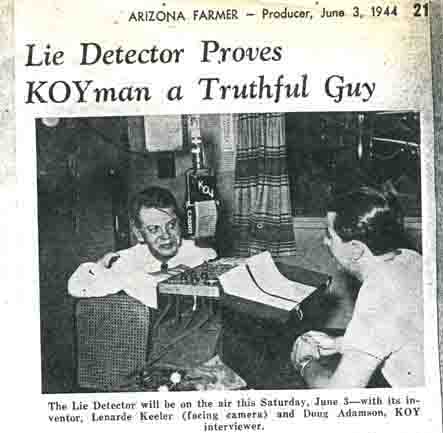 * George Herbert Walker III, former U.S. ambassador to Hungary
* George Herbert Walker IV, American business man and managing director at Lehman Brothers
* George Herbert Walker Bush, American Politician
What if Bruce Adamson's dad could get the Senior Bush on a lie detector, could he pass the test ?
The following volumes comprise the complete series for the books on Oswald's Closest Friend; The George De Mohrenschildt Story:
Oswald's Closest Friend: The George De Mohrenschildt Story
During the 1990s the JFK Assassination Records Review Board Act our government has spent millions of dollars into the research of the assassination of our 35th President John Fitzgerald Kennedy. As a former Federal employee, on several occasions I have offered all of my research under the Whistleblowing Act to the Clinton administration without receiving replies. President Clinton's former Chief of Staff, Leon Panetta, in the past (1992), had supported this author's research as a former Congressman for the County of Santa Cruz. This author believes that it was certainly unethical and boardering upon fraud when President George Bush signed into law The JFK Assassination Records Review Board Act and did not disclose that he knew George de Mohrenschildt since 1942. In order to understand the conflict of interest George Bush played in the JFK assassination investigation in 1963 and in 1976, one needs to look at his entire career with the CIA and Zapata Oil industry. Did George de Mohrenschildt work on 1973 film Executive Action which script was written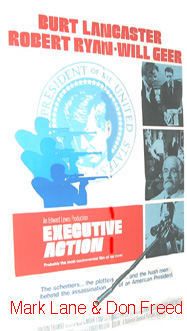 by Mark Lane and Donald Freed? Adamson found the letters between Freed and de Mohrenschildt. By clicking on link you can see that De Mohrenschildt had prior knowledge that LBJ was going to be deleted from film.
CLICK HERE FOR details on Executive Action. Email Bruce Adamson if you want to buy VHS copy of film Executive Action which de Mohrenschildt was aan advisor to Mark Lane and Donald Freed.
TRACKING THE JFK ASSASSINATION
Santa Monica College Corsair - November 17, 1997, by Donna Lynn
As the 34th anniversary of John Fitzgerald Kennedy's assassination approaches, Bruce Campbell Adamson, a self-taught genealogist, historian, author and Santa Monica Colle

ge graduate says that he is close to solving "the crime of the century."
When his father died in 1980, Adamson applied for a job at the Post Office. He says he "wanted to work outdoors" because it seemed to be a "healthy" job with few problems.
"It took me five years to get hired," he says "And I retired in five years." and has used the money to research the JFK assassination.
"I started researching it (JFK) because I was tired of the subject, said Adamson. When I began my research Oliver Stone's movie, JFK, had just been released and I was sick and tired of all of the theories generated by the tabloid news agencies." This motivated him to write and publish The JFK Assassination Timeline Chart, and eight volumes (now eleven volumes) of Oswald's Closest Friend; The George de Mohrenschildt Story. Each bit of information led to another, and Adamson soon discovered that some of his own family members were coincidentally associated with persons connected to George de Mohrenschildt in one way or another. In the past 14 years, Adamson's research has taken him through the government and the Central Intelligence Agency...In a trail that leads from oil fields to Wall Street t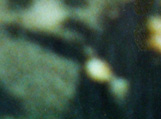 o the sales of helicopters used in the Vietnam War, Adamson claims that he exposes evidence that Lee Harvey Oswald did not act alone.
"Everything that we are today exists today because of the past," he said "If historians don't get the story right, then our lives today are based upon lies."
He also link's "alleged lone assassin" Oswald to de Mohrenschildt, an aristocrat who had ties to the rich and famous. Adamson asserts that these elites may have benefited financially from JFK's death. The wealthy "were also retaliating for their political as well as other motives," said Adamson.
"Wealthy individuals having prior knowledge of the plans to kill JFK could sell short on the New York Stock Exchange and buy their company back for half the price after the assassination," Adamson said. On the day of the assassination, the stock market lost 11 billion in paper." Adamson's main theory focuses on a U.S. oil depletion allowance, which grants oilmen a 27.5 percent tax break when reinvesting in their other corporation. Adamson says that Texas oilmen plotted the assassination of JFK to gain more power, and that the Warren Commission found Oswald guilty without a fair trial. He places de Mohrenschildt with a group of friends -- one of whose grandfather's chartered the oil depletion allowance in the 1920s."...
De Mohrenschildt died on March 29, 1977, of a self-inflicted gunshot wound to the head. Adamson, however, says de Mohrenschildt could have been murdered, since the CIA was on his back about his knowledg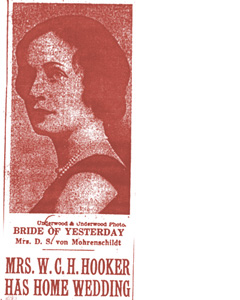 e of the assassination. Adamson asserts that de Mohrenschildt, prior to his death, told a close friend that a number of oilmen, FBI and CIA agents were behind the JFK assassination. Photo to left is the wife of Dimitri Von Mohrenschildt, brother of George de Mohrenschildt and Dimitri is the stepfather to Bush's closest friend. This 1937 photograph was published in the N.Y. Times. She is the mother of G.H.W. Bush's closest friend at Andover and at Yale, Edward Gordon Hooker. Hooker was a cousin to Mrs. J. D. Rockefeller. CLICK HERE FOR details on their blue blood heritage.
CLICK HERE FOR details on their wedding. Dimitri was the step father to Bush Sr.'s best friend.
"De Mohrenschildt had complained to his friend, CIA Director George Bush in September of 1976 about being harassed," Adamson wrote. "Shortly thereafter, Bush contacted the FBI Director and it was not long after that de Mohrenschildt would find himself in Parkland Hospital receiving nine shock treatments."
Were the shock treatments CIA-sponsored, Adamson asks? While Bush was CIA Director, more than 200 Top Secret documents came up missing,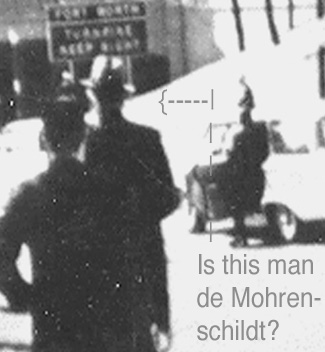 including the letters between de Mohrenschildt and Bush, says Adamson.
Like Oswald, de Mohrenschildt went to his grave insisting that Oswald was "just a patsy," and that Oswald was not the assassin, according to Adamson. "That's a dying declaration," Adamson insists. "When someone makes a statement on their deathbed, they're likely telling the truth." Is finding the truth about JFK's murder Bruce Campbell Adamson's destiny? Is Adamson possessed by the genetics of his own distinguished American heritage, driving him to correct an error made in history? Is he driven by Hustler magazine's bounty of $1 million to whoever determines the murderer?
"Circumstantial evidence does not lie," says Adamson. "And people should not be afraid to focus and speak of these associations in our society, which allows free speech, nor should they fear retaliation for alienating the rich and famous."
CLICK HERE FOR 1062 photo of Marilyn Monroe in background is Peter Lawford's Home where McNamara was in 1962. Is George Barris related to CIA assassin Chuck Barris? Whose uncle-by marriage was CIA's Wiliam S. Paley owner of CBS who employed CIA assassin George de Mohrenschidt.
FROM THE ADAMSON VAULT--TAKING SHOTS AT HEARST FAMILY
Photograph below is William Randolph Hearst Jr. "Bill" and his Brother in front of what would later become Peter Lawford's home. Hearst remarried Igor Cassini's wife. Who knows the whole Patricia Campbell Hearst coop may have been tied to the JFK Assassination. Wm. R. Hearst Sr.'s wife is listed in de Mohrenschildt's phonebook and the Hearst family were LBJ's exclusive publicity agents. One of the top JFK assassination researchers Paul Hoch befriended Patty Hearst while she was on the lamb, not even the FBI could find her. Hoch is the exclusive editor for Peter Dale Scott of Berkeley.
My good friend Mr. McNamara for more than 35 years was a police officer at the Santa Monica Police Department. McNamara was stationed at the house south of President Kennedy's in-law, Peter Lawford while my housekeeper Irene was working for Ivan Goff on the no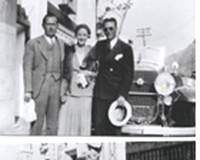 rth side. They leo and Irene would become friends years later through our family. Leo was told by his commander "do not leave your post". Yet, when Mr. McNamara saw President Kennedy running for the ocean without secret service he ran after him. Leo faced severe disciplinariary action for leaving his post, yet his job was to protect the President. Only when an officer on the Santa Monica Bluff backed McNamara's story was he cleared. Ironically a L.A. Herald Examiner photographer Cliff Weisselmann shot the episode and it made the front page on August 20, 1962. Six days later JFK would be photographed with a man who would almost become the Second President with the i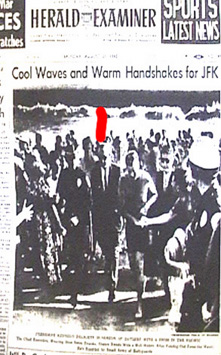 nitials of "JFK". The importance of this story is that it shows how well President Kennedy was protected on the west coast and also that de Mohrenschildt's had ties to William Randolph Hearst who was LBJ's exclusive publicity agents. The De Mohrenschildt's knew the trustee of the Hearst Estate, Serge Semenenko. An interesting note about McNamara as of July 4, 2005 he has hit 15 hole-in-ones as a golfer. When in Ireland McNamara has played golf with Anthony Summers author of Conspiracy.
Another interesting tidbit, recently I received an email from Ivan Goff's niece and she remembers visiting her uncle, Ivan Goff creator of Charlie's Angels. While she was in the ocean she too ran into President Kennedy and was kicked in the armpit by JFK. Was it the same day as Leo's encounter?
CLICK HERE FOR photo of JFK and John Forbes Kerry Kerry is a first cousin to Ruth (Forbes) Paine whose son was putting the Oswald's up in their home in Irving, Texas. Also note that Ruth Paine's dear friend Mary Bancroft was CIA Director and Warren Commissioner Allen Dulles' lover. Next to John Forbes Kerry in this photo is Mrs. Hugh D. Auchincloss who dated George de Mohrenschildt in 1938. Is it merely coincidence that Mohrenschildt's and Ruth Forbes Paine had the same friend for more than 50 years? Jux-the-position and see volume VI for more on this connection.
Adamson's fascinating bloodline hasn't gone to his head. He maintains that he's just "a simple guy. I'm nothing special," he says, but "here I am trying to solve the 'crime of the century,'" for which "there is no statute of limitations on murder." An hour or two before this photograph was taken, JFK went to Church in Beverly Hills and sat next to Jack Haley and composer Jimmy McHugh. McHugh was Harold Adamson's songwriting partner. McHugh's brother "Larry" passed the collection plate and JFK dropped a $100.00 bill into it, according to the L.A. Times.
To Whom It May Concern:
On January 11, 1948, Larry McHugh, friend of John F. Kennedy attended my father's wedding and signed the register at St. Peter's Catholic Church.
Larry's brother Jimmy McHugh was best man at Douglas Morrison Adamson's wed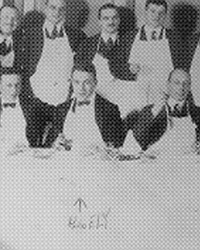 ding to Nancy Kissam Ely. McHugh was Harold Adamson's song writing partner. Photo to right is father of Nancy Ely, George W. Ely with Jackie Kennedy's father standing right behind him, Black Jack Bouvier March 1922. Ely was the grandfather to Bruce Adamson.
Larry and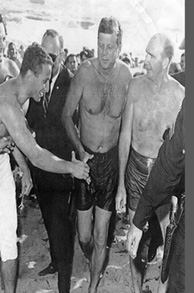 Jimmy McHugh went to a Beverly Hills Church the day that Leo McNamara went to the aid of President Kennedy when he went for a swim at Santa Monica in 1962.
Others of note that were in attendance were Mr. and Mrs. Steve Allen (aka. Jane Meadows).
Bruce C. Adamson -- Dated March 7, 2006---
THE FOLLOWING WORDS ARE FROM COLONEL FLETCHER PROUTY: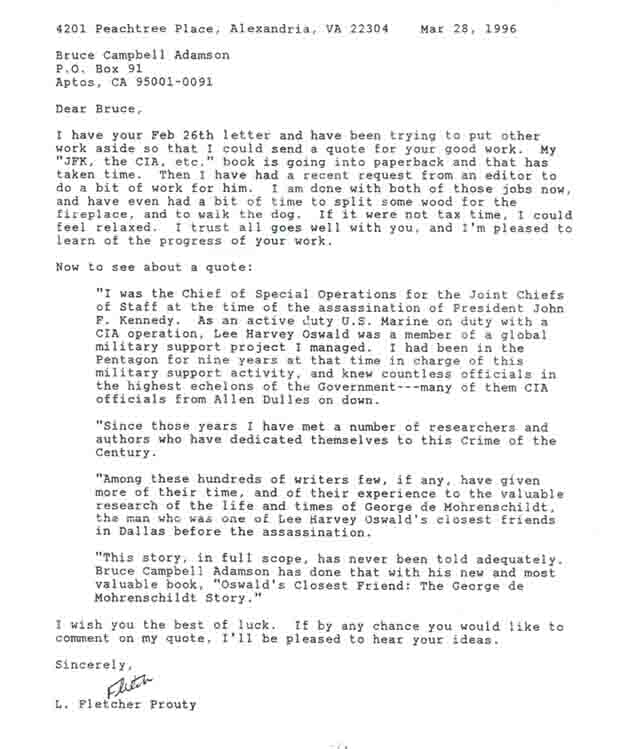 REVIEWED BY RETIRED ARMY COLONEL ANDREW AMERSON,
FORMERLY AN ATTORNEY FOR THE STATE OF CALIFORNIA:
"Mr. Adamson has completed a work of scholarship for those who are, in any way, interested in the 1963 assassination of President John Fitzgerald Kennedy. Mr. Adamson's work is in two books although each book may be read separately and purchased separately.
The first book is a timeline which sets the activities of all the major players (some well known and some not so well known) linked directly or indirectly to the events in Dallas. These individuals range from the Kennedy family and their associates, to government leaders, to Lee Harvey Oswald, to Oswald's friend George de Mohrenschildt. De Mohrenschildt was active in the intelligence community in World War II and there is evidence he worked for Nelson Rockefeller. Mr. Adamson simply sets out facts in chronological order in the timeline and allows the reader to draw his or her own conclusions based on the relationships disclosed.
Mr. Adamson's second book deals specifically with George de Mohrenschildt, a white Russian emigrant who befriended Lee Harvey Oswald. In this well documented and well researched volume Mr. Adamson draws some startling conclusions as to who was really behind President Kennedy's assassination and why our President was killed.
As a former prosecutor in the United States military and as a present prosecutor in California, I was impressed both with the manner in which Mr. Adamson collected and presented facts and with the depth of his analysis. As a skeptic of any conspiracy theory, I must confess that I find Mr. Adamson's facts and analysis compelling after having read his books. These books should be read by anyone who is interested in this pivotal period of our nation's history."
-Andrew D. Amerson.
COMMENTS FROM FORMER CONGRESSMAN LEON PANETTA:
"Thank you for your continued contact with my office...on the assassination of President, John F. Kennedy. From the documentation you have provided, you certainly seem to have devoted a great deal of time to this dramatic event...I send my best wishes for success in your future endeavors."
-Leon Panetta.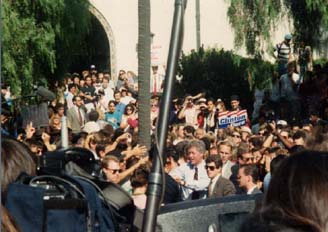 Around Jan. 6, 1993, former Congressman and Chief of Staff for President Bill Clinton, presented portions of Adamson's research to the Judiciary Committee of Congress. Adamson shoots Clinton with a camera at San Jose State University. Why did the Clinton administration protect George H.W. Bush's involvement in the JFK Assassination? Adamson blew the whistle yet the Clinton administration spent MILLIONS of Dollars under the JFK Asssassination Records Review Board Act and ignored ALL of Adamson's discoveries even though his Chief of Staff supported it. Can you blame him? If he tried to bring out the truth there would be no more Clinton. The Review Board committed FRAUD by giving the Zapruder family 16 million dollars for the Zapruder film when he had CIA ties and by not mentioning George de Mohrenschildt ONCE in their Report.
CLICK HERE FOR Letter of Support Leon Panetta. Under President Bill Clinton's watch the U.S. Government spent millions digging up so called JFK Assassination related materials. The government refused to acknowledge Adamson's work. Adamson is a former U.S. Federal Whistleblower. Adamson shot Bill Clinton with a camera in 1991 at San Jose State University to the right.
Watch 10 minute clip of 1 hour long video: 1,000 Points of Light on JFK, Diana and Sept. 11th with Bruce Adamson on Nightly News as Researcher and on JFK's assassination by clicking here.
volumes on C.D. click on link below:
Vol. 1-11 and 700 pages more added : entirely on CD (2500 pages) using Acrobat 6.0.
1,000 Points of Light on JFK, Diana and Sept. 11th will aire on Comcast in Hollywood on December 27th at 5:30 PM Pacific Time.
President John F. Kennedy's speech on Education to Congress January 29, 1963.

Education is the keystone in the area of freedom and progress...For the nation, increasing the quality and availability of education is vital to both our national security and our domestic well-being. A free nation can rise no higher than the standard of excellenceset in its schools and colleges. Ignorance and illiteracy....these and other failures in our social and economic system...It requires skilled manpower and brain-power to match the power of totalitarian discipline...And it requires an electorate in every state with sufficiently broad horizons and sufficient maturity of judgment to guide this nation safely through whatever lies ahead."

If we can not, nor will not educate the people on why President Kennedy was assassinated and those who run the country are committed to hide behind a curtain of lies than can our country truly be educated? Come with me and examine the causes and effects that led to the assassination of President Kennedy if you too care about "'whatever lies ahead.'"

Read about The Man John F. Kennedy fired upon becoming President John Hay Whitney. His grandpa was the personal Secretary to Abraham Lincoln. JFK wrote to Whitney ambassador to Great Britian "Pack Your Bags Jock. Jack Kennedy." Whitney is also tied to Vanderbilts, The Astor's, the CIA: William S. Paley, de Mohrenschildt, Allen Dulles, five trustess of the Museum of Modern Art, Nelson Rockefeller, Wm S. Paley, Henry Luce, Philip C. Johnson, Charles Wrightsman and Colonel M. Paul (JFK's landlord and friend of de Mohrenschildt). READ more on John "Jock" Hay Whitney.

Long before Jack Ruby killed Oswald this was in 1933 tied to the Hart Lynching in San Jose California as Alameda's District Attorney. Earl Warren said "these two lynchings come as a direct result of the laws of this nation against serious crimes not being adequately enforced. Our government simply has not measured up to its responsibility as far as protecting life and property are concerned...I cannot help but believe that if the public were adequately protected against murder and kidnapping, the people would never take the law into their own hands in such matters." Earl Warren said this thirty years before.
Rush to Judgment Leon Panetta Does have CIA experience
List of George W. Bush's Pardons Many Conspiracies - How many ar
The CIA and Howard Hughes' His Kind of Woman is a great film. Vincent Price is subperb. Story plot sounds like Oswald being set up in Mexico "as Patsy." In 1972 Robert Mitchum was in film with de Mohrenschildt's daughter Alexandria in The Wrath of God. Mitchum was great in this film and Alexandra was an extra. Looking as good as Paula Pritchett the leading actress, if not better. G.H. Bush and de Mohrenschildt were all friends of Howard Hughes. A deported gangster causes problems for guests at a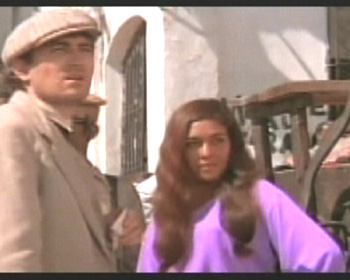 Mexican resort. Cast: Robert Mitchum, Jane Russell, Vincent Price. Dir: John Farrow; This film is interesting for it is more than 10 years before JFK's assassination. Hughes was back in favor with the U.S. government and at some point worked with the CIA. De Mohrenschildt claimed to be friends with Howard Hughes since 1938. Hughes was also from Houston and a Texas oilman and tied to George H.W. Bush. You'll Know was the song that she sung for Robert Mitchum and Vincent Price. You thought the Manchurian Candidate was something you ought to watch Sinatra in Suddenly.1954, nine years before JFK's demise. At 2:30 AM , May 31, 2007 on Turner Entertainment. Suddenly Gunmen take over a suburban home to plot a presidential assassination. Cast: Frank Sinatra, Sterling Hayden, James Gleason. Dir: Lewis Allen. BW-75 mins, TV-PG, Letterbox Format
For Sale 12 Letters 2 Postcards with Signatures from Dimitri Von Mohrenschildt
Also have 28 Letters from Congressman Leon Panetta now CIA Director for Sale.
The Media Bows to the Rich and Bow-wow's to the Poor!
Visit Press Release for 2009 click here