By BRUCE ADAMSON
PRESS RELEASE September 1, 2023 - Robert F. Kennedy vs Igor Cassini - RFK, Sr. & Jr. for President 1968 & 2023; Why did the CentraL Intelligence Agency destroy this letter?
Adamson was first to publish it in 1996, ten years before JFK's passing.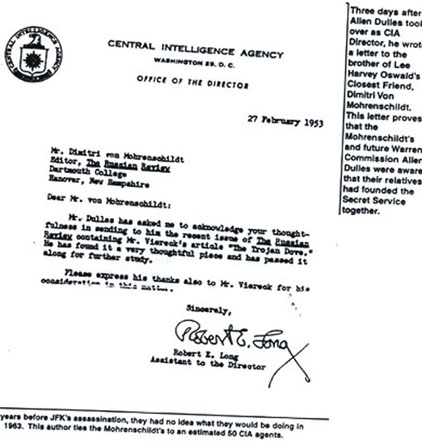 Robert F. Kennedy, Sr. was damned if he did and damned if he didn't prosecute Igor Cassini in the court case. Cassini was very well liked as a writer for William R. Hearst, Jr. in charge of Hearst Publications. Mrs. William R. Hearst was Austine McDonnell-Cassini, the previous wife of Igor Cassini. Igor's brother was Oleg Cassini the First Lady Jackie Kennedy's exclusive dress designer. The Hearsts were acquainted with Howard Hughes, who also happened to be friends with George de Mohrenschildt, Igor Cassini and actress Joan Crawford, who was Igor's landlord at 500 Park Avenue. When Patty Hearst was kidnapped Howard Hughes offered to pay the ransom, Hughes also owned the Texas Theater where Lee Harvey Oswald was arrested. I hope that the youth of America will understand that candidates who come in as third party candidates obstruct the more favorable candidates from being elected as they did in 2000 Gore vs. G. W. Bush, Jr. People like Ralph Nader, Bernie Sanders are great people yet can do more harm than good.
Photograph of John F. Kennedy and Allen Dulles from the collection of White House Photos JFK L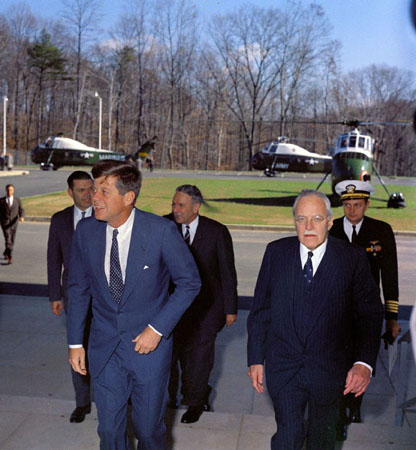 ibrary.
Robert F. Kennedy, Jr. is now running for President as a Democrat but he has appeared at GOP conventions, being well received by Donald Trump and others. Many Americans respect the Kennedy family. RFK, Jr. had appeared on Fox The Hanity Show, stating that the CIA was behind his father and uncle's death. When asked about the evidence he mentioned Allen Dulles and the entire CIA. RFK, Jr. and I are in agreement about CIA involvement. Because I am not related to the Kennedy family, I was able to spend 31 years without bias studying who linked to the assassination of JFK. I have not discriminated either the Democrat or Republican party I just followed the facts. I can not imagine trying to investigate the loss of my father and uncle, who were honored and respected by so many Americans.
Several of the facts I have uncovered in my 31 years of research:
Facts from 15 volume Series on Oswald's Closest Friend; The George De Mohrenschildt Story copyrighted 1996-2023:
My research was supported in 1992-93 by Congressman Leon Panetta before he went on to work at President Bill Clinton's White House, Colonel Andrew Amerson (JAG) and Colonel Fletcher Prouty in the mid 1990s. In 1992 the West Palm Beach Sheriffs office supplied me with photocopies of all of de Mohrenschildt's personal papers and medical file. Adamson vs. DOJ in a FOIA case San Jose, CA, on more than 2700 pages of de Mohrenschildt's FBI file dating back to 1941. I have self-published bound booklets, detailed articles, analytic reviews focusing on George de Mohrenschildt, a highly connected individual from the 1940's on, participated in projects for the intelligence services. I have pondered the connections between de Mohrenschildt George H. W. Bush, Allen Dulles, the CIA and FBI agents, and I was also the first to publish the correspondence between de Mohrenschildt and both President Kennedy and Vice-President Johnson at the very time de Mohrenschildt was hanging out with the future alleged assassin Lee Harvey Oswald.
For more about my 15 volume series and video visit http://ciajfk.com/jfkbooks.html
To reach Bruce Adamson at bca@got.net, or write me, P.O. Box 3511, Santa Cruz, California 95063-3511.