Bruce Campbell Adamson P.O. Box 3511, Santa Cruz, CA, 95063-3511
I would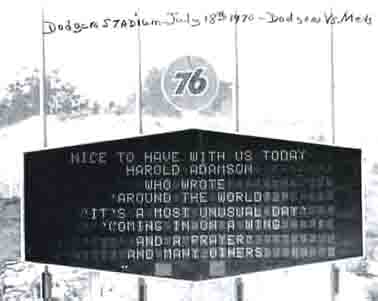 like to think Vin broadcasted on this date and recalled his broadcast on Harold Adamson after I sent it to him. As a genealogist since 1982, I am only sharing a few stories.
VIN SCULLY -- HALL OF FAME BROADCASTER Vin Scully at Dodger Stadium for 67 years passed on August 3, 2022 -- I am 67 years old when I put this piece together.
I met Vin in 2004 in front of the St. Louis post office Dodgers vs St. Louis Cardinals. Vin in St. Louis was walking down the street in his blue silk suit, Bruce yelled "Hey Vincent" and he looked at me with a smirk. I could here him think to himself "You're not my mother." I had not heard him since I lived in Los Angeles since 1988, so I forgot his name was Vin. Adamson was in front of St. Louis post office talking to reporter of the Alton newspaper The Telegraph. I wrapped it up as fast as I could and ran two blocks to catch up with and patting him on the shoulder and said "you're the greatest." I told Vin that I would send him photo of the Dodger Billboard with uncle Harol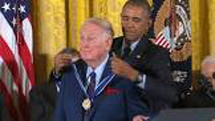 d Adamson on it, which he must have broadcasted. Little did I know that my father Douglas Adamson was voted top disc jockey in the USA by Billboard Magazine in 1948 at KLAC which is the same station Scully had worked at for many years until he retired as of Oct. 2, 2016. What a person who lived the fullest life and made every baseball game an Affair to Remember for a millions of fans.
Douglas Adamson in 1948 Billboard magazine Doug was voted top ten D.J. in USA while at KLAC - photo of Doug on right
Dad was working a few years before Scully began broadcasting for the Dodgers. Other KLAC broadcasters were Al Jarvis and Steve Allen. I remember when my father use to take me to the L.A. Dodger games to watch the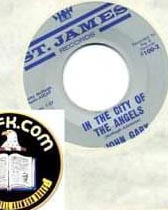 likes of Don Drysdale and Sandy Koufax was my favorite as was Vinnie. When Vin was eight years old he became a NY Giants fan. had not heard him on the radio or tv since 1988. Harold, my uncle wrote many hit songs that gave Vin, I am sure many pleasant memories. Vin was kind and sent me a postcard of himself in his blue silk suit. On Oct 2, 2016, Vin will broadcast for KLAC for his last game. Wow! That is longer than many marriages. A man who truly loved his job. I sat in center field and could see Vin in his signature light blue shirt and tie on his last day. The GIANT's gave him quite a send off. A whole lot of Dodger fans showed up. Today KLAC is the Dodgers broadcasting station and it was cool to know m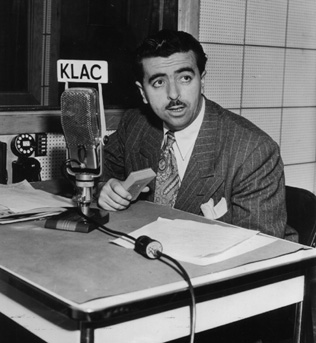 y father held the same job as Vin at the same radio station KLAC. What was even cooler was that Vin broadcasted Sandy Koufax's fourth no hitter, which was Sandy's one and only perfect game on September 9, 1965, he said: "Here in the City of Angels."
In Vin Scully's own words. Copy and Paste or Click on Facebook link to hear hin say "Here in the City of Angels."
https://m.facebook.com/watch/?v=1071860956592440&_rdr
Three years earlier dad's brother Harold Adamson wrote the lyrics with Jimmy McHugh to the song "In the City of Angels." On the flip side w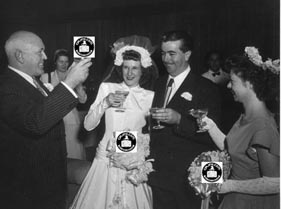 as a song Jimmy McHugh wrote for Jackie Kennedy, The First Lady Waltz.
Douglas Adamson's wedding on Jan. 11, 1948, to Nancy Kissam Ely, Jimmy McHugh was best man to the groom, My Dad. One of McHugh's biggest fan was President John F. Kennedy. For Harold Adamson's longest songwriting partner Jimmy McHugh's song list conduct an internet search. McHugh's letter to JFK on ballad McHugh wrote for Jackie Kennedy "The First Lady Waltz." The flip side to the 45 reco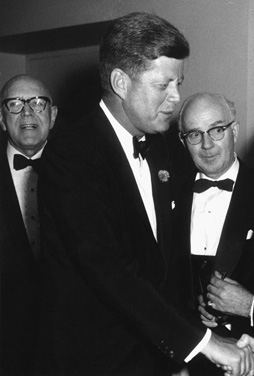 rd was "City of Angels," by Adamson and McHugh. Photo of Jimmy McHugh standing behind JFK as if he was watching his back. One may want to read letter from McHugh to Evelyn Lincoln. I could go on all day and not make a dent in the memories Vin Scully left for millions of baseball fans and their memories of Vin's voice in whatever moment of their lives. Vin was "The Greatest" announcer. I loved his voice and personality. It takes a good announcer to make the team and vice-versa. Vin and Harold were both good at making memories which they shared around the world.
Bruce Adamson sitting at top in Hawaii in front of miniture church, photo by Rikki Mendias.
---