Bruce Campbell Adamson PO Box 3511, Santa Cruz, CA, 95063 --- EMAIL is bca@got.nCet
Click to read Tim McHargue's -----} A Box of Poems
Film is seven minutes long. Donald Trump admits buying his yacht from Jamal Khashoggi's uncle Adnan Khashoggi through brother-in-law Al Fayed. 7 minute video are facts not theories. Ties CIA to Al Fayed, 9-11, JFK, Dodi Fayed, who was Jamal's cousin to Princess Diana and back to El Amir Atta father of lead terrorist 9-11, and then back to JFK. Look at the facts then make your own conclusions. In the 1990s Trump made the admission that he purchased Adnan Khashoggi's 300 foot yacht. He did not know then that the nephew Jamal Khashoggi would be chopped up with saws and murdered by Saudi Royal Family in 2018. New York judge allowed family victims to sue Saudi Royal Family for 9-11 terrorist plot.
On Oct. 26, 1992 President George H. W. .Bush signed into law The JFK Record's Review Boa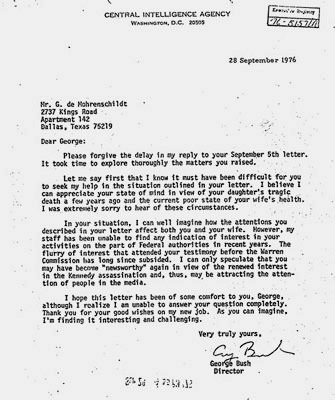 rd Act. Government was suppose to gather all information pertaining to the JFK assassination. when the bullets started flying. Bush admitted knowing Oswald's CIA pal since 1942. Letter below click on link. If you were friends with Lee Harvey Oswald's CIA pal would you signed into law The JFK Records Review Board Act of 1992? Letter from CIA Director to de Mohrenschildt to the right 1976 the year their friend Howard Hughes allegedly died. The Review Board Act made no mention of de Mohrenschildt, not a single word.
George H.W. Bush's letter also in 1993
Adamson was given the brush off when Henry Wade who had been in charge of the JFK assassination at the time in November 22, 1963. They paid the Zapruder family heirs 16 million dollars even though the heirs were closely link to the de Mohrenschildt family, Dallas Council on World Affairs and the CIA. Adamson's first letter was responded to by Henry Wade, yet not Adamson's second letter dated May 12, 1993 which contained much more substance than the first letter.
BRUCE Adamson vs. Henry Wade of Roe vs. Wade.
Geary, Porter & West
Attn.: Henry Wade
16475 Dallas Parkway, Suite 550 Dallas, Texas, 75245
May 12,1993 ---- [30 years after de Mohrenschildt met with Vice President LBJ and before JFK's demise]
Dear Mr. Wade:

Thank you for your letter of March 24, 1993. I appreciate your answers. My collaborator and myself are almost done with our book proposal and the first two chapters on George de Mohrenschildt. In your letter and the second graph you said "It was not necessary because Oswald was charged with plain murder of JFK by shooting him with a gun. That is all we have to allege". Do you know who conducted the parafin [sic] test on Oswald which showed Oswald did not have any gun power on his face?
Did you know that George de Mohrenschildt met with LBJ on April 26, 1963? Would you know of anyone who specializes in research on de Mohrenschildt or whose might have material that others do not have access to? We are also interested in the Dallas Council on World Affairs in the 1950s and 1960s. Could you tell us why John A. Crichton was the one to chose the interpreter for Marina Oswald, when he lacked the authority? In researching some old FBI documents on de Mohrenschildt we found your name mention as we did with FBI man J.P. Hosty. The document is dated six years before the JFK assassination and was a result to Jeanne Le Gon's marriage to George de Mohrenschildt. My collaborator [Steve Perez writer homicide at Santa Cruz Sentinel] and myself were hoping that you could shed some light on the portion that is in the dark? It would be greatly appreciated if you could assist us in clarify what were the FBI's intentions in 1957 of tailing the de Mohrenschildt's and what you had to add to their investigation. Let me thank you for your previous letter and would you be interested in reading our book proposal and making comments and suggestions?
___________
Bruce Campbell Adamson = No response to this letter from Henry Wade.
Santa Cruz Sentinel Steve Perez to White House Oct. 13, 1992, two weeks before Bush Sr. signed into law JFK Record's Review Board Act Steve Perez hired by Adamson gave President George H. W. Bush a two week warning before he failed to disclose of his relationship to de Mohrenschildt and signed into law the JFK Records Review Board Act.
Santa Cruz Sentinel to Bush Sr. page one.
Santa Cruz Sentinel to Bush Sr. page two.
Santa Cruz Sentinel to White House page 1 of article.
Adamson is descended from Rufus Easton who was appointed in 1803 by President Tho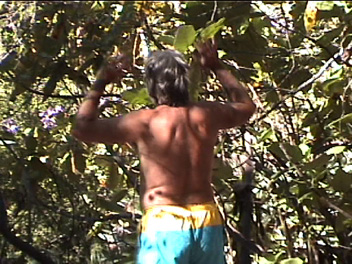 mas Jefferson as judge of the largest territory in North Amercia, The Louisiana Territory. Following in his footsteps! I do not wish retaliation for what certain individuals may or may not have done to President Kennedy. One must keep Democracy alive for the living and for this country. Adamson's third great uncle George Sidney Camp wrote the bestseller Democracy in 1841.
Adamson on Roberts ranch in Malibu - talking to tropical plants and communicating to life on other planets. After reading The Secret Life of Plants.
--------------------------------------------------
1992 photograph of Adamson on the The Joseph Conrad in Mystic, CT. This 100 foot clipper ship was sailed around the world in 1935; which Adamson's father Douglas sailed around the world in 1935 sixty years earlier. In the same year Clark Gable, Charles Laughton and Franchot Tone were in the film Mutiny on the Bounty. The only film in Oscar history when three actors were competing against each other in the same film for an Oscar. They all lost to Victor MacLaglen who won best actor Oscar for Informer. In 1944 MacLaden co-sung a song written by Douglas' brother Harold Adamson in the 1944 film The Princess and the Pirate with Virginia Mayo and Bob Hope. In 1909 MacLaden fought Jack Johnson as a boxer in an exposition fight. Muhammed Ali said Johnson was the best fighter of the century. A search of the internet is worthy to hear Ali's words on Jack Johnson. Bruce shook Ali's hand in 1987 who many say "Was the Greatest."
SOMETHING STINKS AT THE SANTA CRUZ YACH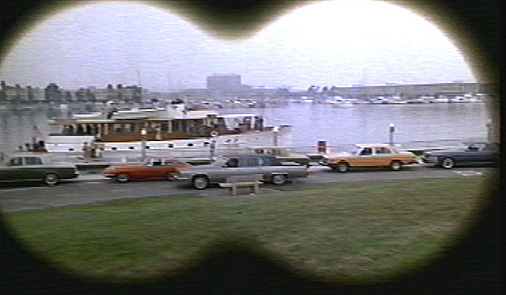 T HARBOR and it
SURE AIN'T FISH -- MEDIA and LAW ENFORCEMENT KEEPS QUIET
don't upset applecart - The TICHELMAN FAMILY has Candian & US citizenship
Could ALIX TICHELMAN have been working for her DAD? Whose Company works for the United States and California Government Agencies! Click on link below to read more. She either, directly or indirectlly killed two people and faces ONLY manslaughter charges. Is the government trying to Desensitize the US public?
Forrest Hayes met his end on the 50th Anniversary of JFK's assassination.
Why should Bart Tichelman put up her bail, when it may incriminate himself? He can sure afford her bail. Alix is looking at a small sentence. See more on her father's corporations which have ties to Uncle Sam! Google stop executives at WHITE HOUSE. Bart Tichelman companies were in competition with GOOGLE. All I am suggesting is to keep an open mind and not sweep the facts under the rug. Most suspects get a single Public Defender, Alix has THREE!
http://www.synapsense.com
Click to read Court Documents and links to BART TICHELMAN CEO-President of SYNAPSENSE.COM
2008 Bruce Campbell Adamson Threatened to Chop
Arm of California Supreme Court Justice Addison Niles
Bruce Adamson -- Books -
"Bruce Campbell Adamson digs UP Roots in 1985." Click to read article.
TRANSLATIONS of ADAMSON's WEBSITES in Spanish, Japanese, Chinese, Korean, French, German, and Italian.
Before there was BRUCE LEE ---} THERE was the FIRST CHINESE ACTRESS ANNA MAE WONG
Anna Mae Wong was a guest at the Adams
on residence home in Larchmont, New York. Minnie Campbell-Adamson from Scotland. and Anna Wong seen in photograph below. Wong will be the first Chinese actress honored by the US government and found herself on a United States quarter.
On another positive note Mrs. Harold Adamson became friends with Madame S. T. Ting Wong who took Gretchen to China five times. I had the honor to videotape her cooking shrimp and peas at her home in West Los Angeles. Colonel Andrew Amerson a former prosecutor for the US Army interviewed the famous CHINESE COOK author of Long Life to Chinese Cooking. Watch her in action at 100 years old, sharp as a tack.
Madame S. T. Ting Wong. This great teacher was friends with aunt Gretchen. There were over one million copies of Long-Life Chinese Cookbook sold of Madame Wong's book that was coauthored by Sylvia Schulman. Yet how many were signed? Seller had five copies signed by Madame Wong through her family.
Wong's book was co-authored with Sylvia Schulman, wife of Samuel Schulman the former owner of the Seattle basketball team. On the cover Sylvia states her husband's basketball team's coach was Bill Russell and others in the basketball world as well as by many well-known entertainers."
Madame S.T. Ting Wong passed away on May 19, 2008
Adamson produced a 15 minute video Madame Wong at the age of 100 cooking Shrimp and Peas. "Still Cooking at 100 Years Shrimp and Peas."
Wong taught Wolfgang Puck how to Peking duck at his restaurant, Chinois in Santa Monica.
;Click to watch 15 minute video cooking at 100 years old author
At the age of 15 Bruce was the senior reporter, editor and printer of the school newspaper at Boys Town of the Desert. 35 years later on May 28, 2005 Bruce C. Adamson turned 51 years old! As a historian, genealogist I am a name dropper.
Adamson graduated in 1985 from Santa Monica City College. Following in his father's footsteps (Douglas M. Adamson) Bruce majored in real estate receiving his real estate license in 1981.
Bruce followed in his father's footsteps, sort of. Since 1982 he has been license by the California Department of Real Estate. Bruce C. Adamson was taught by the best at Santa Monica College; Professors Larry Gentry, (former neighbor to Nicole Brown-Simpson--Larry Gentry passed away on Feb. 20, 2009); William Snyder, Esq. (Attorney-Broker); William Reid, (Comedian); Silas. Ely (author of Basic Real Estate Appraisal 6th Edition. Basic Real Estate Appraisal 6th Edition Richard M. Betts MAI Silas J. Ely RECI) and others.
As a real estate agent in California Adamson closed one real estate deal to actor Timothy Hutton in 1982. Some careeer as my father.
Click to read Adamson's views as a Toastmaster.
Next page >>>>
Photo of Bald Eagle in Santa Cruz 4/1/ 2002 by Bruce Adamson no fooling. I captured 12 minutes of video of the eagle with his friend a golden eagle.

If you have any questions or comments please feel free to express them in an email. Just click on the mailbox!

ADAMSON HAS BEEN A DEDICATED MEMBER OF TWO OF THE LARGEST UNIONS IN THE U.S.A. AMERICAN POSTAL WORKER'S AND MAIL HANDLERS UNIONS. An interesting note is that in 1986 as a U.S. mail carrier the last person I delivered mail to was LYLE ALZADO linebacker for the Oakland Raiders. He invited me into his home and was able to get autographs for my nephews. He was truly one of the largest men in thickness I had ever seen. About six inches larger than my Samoan friend who was the Olympic Weight Lifter for the State of Hawaii and whom could bench press pver 500 pounds.

Afterwards the first person I delivered mail to as a clerk was my cousin Meg Foster in Topanga Canyon all this was in 1985. U.S. Male, as Elvis would say.

I learned in 2015 on ESPN that Alzado fought Mohamed Ali in 1979. In 1986-87 Ali at 3:00 am entered the RTD Bus on Santa Monica Blvd. while I was on my way to Pasadena. Ali sat right next to me and I had to do a double take for he still was the Champ in my eyes. When he got off the bus I had to get off and shake his hand. Ali walked all the way to the beach with wife. So I hope that a little bit of Ali and Alzado rubbed off on me. Their fight was for charity and was not an official fight. Alzado said to his wife "I hit him hard, and he hit me back much harder." Both men were great inspirations to sport fans around the United States.

Don't forget your mailman or women at Christmas. Donuts, food or small gifts are always appreciated by your Postal Employees. In the long run it will assure better service to you for they are working very hard!
Click to read letter from author and historian Page Smith 1991
Click to read letter from Deputy Superintendent Thomas J. Donner of Santa Monica College 1991.